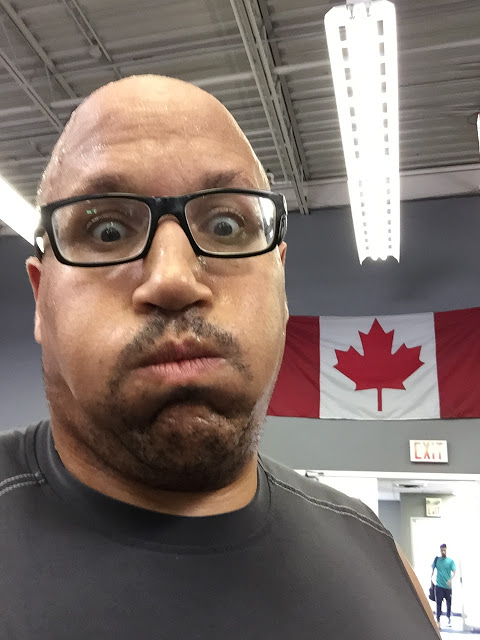 Double Under Face
Thursday (July 2) – I'm smack dab in the middle of my 5 DAY
WEEKEND and while I would love nothing better than to sleep for the entire
time, work has to be done. Some of you may be shaking your heads at a statement
like that, but for me it's a 'break' to shut the brain down and just work. Don't
think it's all out all the time though, sometimes you still have to make
decisions that are good for you and your body. There was a lot of squatting in
the @CrossFitCanuck programming and with my knees just starting to feel better so
I decided to pass. Coach Z (@zlreyes) let me jump in for the conditioning
component of the 430p class so at least I would be doing something.
Warm-up
500m Row
2 minutes DUs
Power Cleans
I'm still working away at the DUs, trying to become proficient,
but I still struggle most days. All you
can really do though is to keep working at it. I'm to the point now where I can
hit 10 Single-Single-Double, but they take a lot out of me. Still, I'm better
today than when I started and I will be better tomorrow as long as I work at
it.
WOD
AMRAP 15
12 Calorie Row
8 Hang Squat Snatch (@75lbs)
20 (Single-Single-Doubles)
Calorie Row. Is there anything better? Well, not breaking a
Rower has to be up there. I hit the Rower four times during this WOD and on
round one I was pulling 3200 Cal/Hr+ when the chain jumped off the sprockets. I
thought I had killed the machine, but thankfully it sorted itself out. I
managed the 12 calories in less than 20 seconds each round (small tooting of
the horn). The Hang Snatches felt, well, decent, but there is still work to be
done getting comfortable receiving the bar in the hole. 3 complete rounds and 3 DUs.
BWOD
Glute Stretch
Hip Stretches
Back Rollout
Ankle Mobility (Plate)
Shoulder Mobility
Lat Stretch
Nice and short, but the heart rate was up, plates got lifted
and the body worked hard. I really couldn't ask for anything else. We are
headed north for the weekend and @Keilshammer and I are planning on taking a
spin through the Barrens on Saturday. My
goal (as it's been for the last year) will be to beat my best average speed. I've
been feeling pretty good on the bike so maybe there is a chance. Also the Tour
de France starts Saturday, spend a second to check it out. Beautiful scenery and
the best riders in the world.
Beez