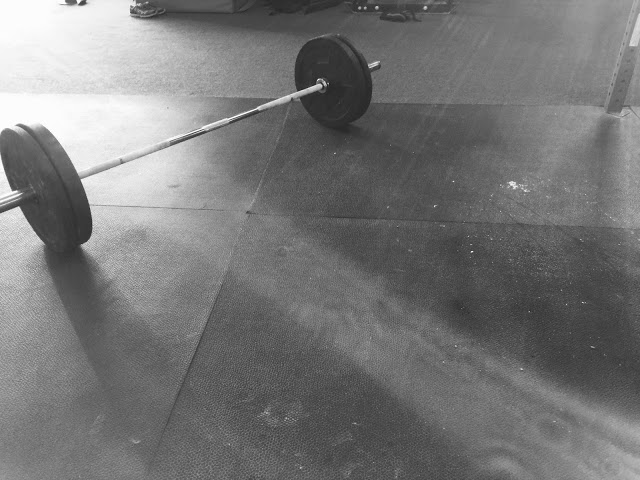 Wednesday (June 24) – Queue the drum. Bring in the crowd
noise. THUNDER! The guitar riff picks up. THUNDER! We do a Burpee. Wait, what
was that? I don't remember that in the original version. Coming in on a
Wednesday morning and hitting day 2 of the planned 3 mornings, Tavia had
another gem for us. Remember 'Bring Sally Up' by Moby that turned into a 4
minute tour de force of Back Squats, well picture something just like that, but
with a whole bunch of different movements. The positive? At least it wasn't 'Roxanne'
by the Police. Coming off a crazy Monday of Snatches on Monday, we were in for
some more serious shoulder work. Well Giddy up!
Warm-up
"Thunderstruck"
Minute 1: Push-up
Minute 2: 3 Mountain Climbers
Minute 3: Jump Squat
Minute 4: Burpee
Well we are certainly warm now! OHS are not one of my better
movements, mostly because of my mobility. Heck, it's all about my mobility
here. Still, my 1RM has been on the board since August 31, 2013 and there hasn't
been any movement on it. I've worked on it, but there seemed to be a block. Well
today we had 3RM OHS and Wall Walks. Hey Shoulders, are you ready to get some
work done today? There are no more excuses; we work to complete everything, as
it comes. I'm trying to find that
groove, really, really badly.
12 minutes to Find 3RM OHS
Then…
5 minute EMOM
1 Wall Walk
6-8 Leans/Shoulder Touches
'Salt Shaker'
5 Rounds: On the 3 minutes
200m Run
10 Snatch (@95lbs)
ME Knee to Elbows
(Score is K2E)
The weights started going up and they felt really good. I
kept waiting for the ceiling and for some reason I hit it and just kept going.
My stance was a wee bit wide, but I was solid and I set not only a 3RM, but
also a 1RM. 125lbs! Now that's how you want to start a Wednesday! There was
still more and even though I only managed to get 4-5 Leans in, it felt good to
get up the wall (especially since I was getting gassed). When the WOD rolled
around, you had to hustle. Stringing together the Snatch was the only way to
get to the K2E and when round 5 was done I had managed 65 reps.
BWOD
Shoulder Stretch
Lat Stretch
5 Deficit Pull-ups
Glute Stretch
Hip Stretches
Back Stretch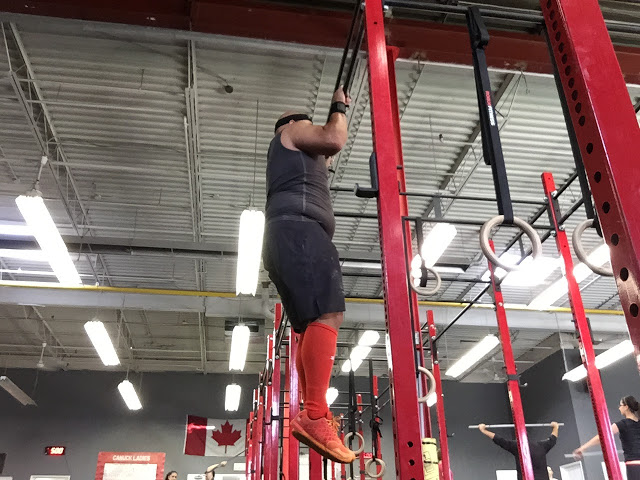 Homework…
This week has been pretty stellar, even though I feel like I
might not have any shoulders left by Friday. It feels really good to get a
regular schedule and with the July shift in my schedule (moving from the
evenings to Mondays at 6 & 7 am) means that I can WOD again with the
#530Crew. Am I excited? HELL YES I AM! Sorry for the shouting, but this week
has been absolutely stellar so far and if I can keep the body going it could be
even better.
Now before I leave, I have a housekeeping request. Please
head over to Facebook and give a 'Like' to the Bikes, Barbells and Bacon page.
You can find a quick link at the top of the blog. Mucho appreciated!
Beez