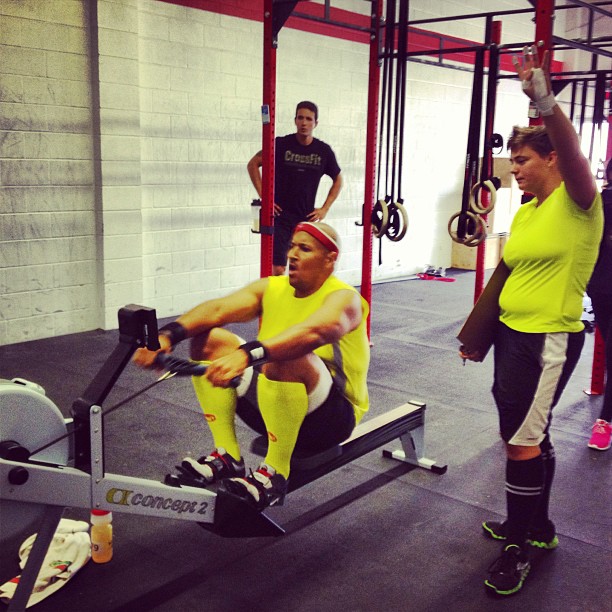 A little throwback Row
Tuesday (Dec 16) – I know, you are saying
to yourself, Tuesday? What happened to hitting up the Nooner on Monday
@CrossFitCanuck? Well sometimes life happens and the best laid plans go right
down the pipes. Somehow Monday just got away from me, even though I was pretty
good with my diet (it's tough around this time of year with holiday treats
everywhere you turn). I ended up in a meeting that just kept going and going.
It was tough because a bunch of eyes were opened so in the long run it will be
a really big win. Still, I was really bummed that I didn't manage to complete a
goal and with some more crossed wires the Warm-up for the #530Crew wasn't what
I was hopping for. Still, another learning experience.
Flashback – My last year playing Men's
Slo-Pitch with the Blue Rams I had a pretty bad injury to my knee while I was
trying to beat out a play at first. When the swelling had subsided I was sent
to get an MRI and while they determined that I had a small tear of the patellar
tendon, the results were inconclusive because of swelling. All this occurred
with a bunch of extra weight and before I discovered CrossFit. Still, since the
Texas Cycle and my attempt to enjoy life below 90 degrees, something just hasn't
been right. I know what I think it is (I hope I'm wrong), but it was super aggravated
during Squat Therapy. Anyway, to make a long story short, there is another MRI
in my future (just waiting on the actual date).
Morning Workout
18 minutes Elliptical
10 minutes Recumbent Bike
So after a bit of a long winded intro, this
is where the 'Teamwork' portion comes in. This journey isn't just about me
losing weight and getting healthy, it's a giant collaborative effort. Tavia
gave me a great pep talk, reiterating some things I may have forgotten during a
stressful stretch. There has been a stream of encouragement that has come in
from various places that have reminded me that even when times are tough I have
a solid Team behind me. And, last but not least is @SavannahJessie, who made
stupendous efforts to get me out of bed and to the gym. It's time to get back
into good habits.
BROW
518m Row
10/10/10/10/10
5x100m Sprint
10x40s On 20s Off
BWOD
5 Pull-ups
Shoulder Mobility (Band)
Glute Stretch
Neck Smash (Supernova)
Lat Smash (Supernova)
Glute Smash (Supernova)
Hip Smash (Supernova)
Calf Smash (Supernova)
Hip Stretches
Back Stretch
Shoulder Mobility (Bar)
Elbow Stretch (Bar)
10 Power Cleans (Form – Bare Bar)
This is starting to be a broken record.
Week 5, Day 2 for what feels like the 1,000,000th time. I don't care
if I have to break into the box, this week I will get this series done and get
moving on. Like Tavia reminded me, with everything going on, I shouldn't be
sacrificing my health or my focus regardless of what's going on. So while it
looks like I will be 1-for-3 on Nooners this week (Friday is the IT Lunch), I will
be is, I will be working.
Keep you fingers crossed that everything
works out tomorrow.
Beez