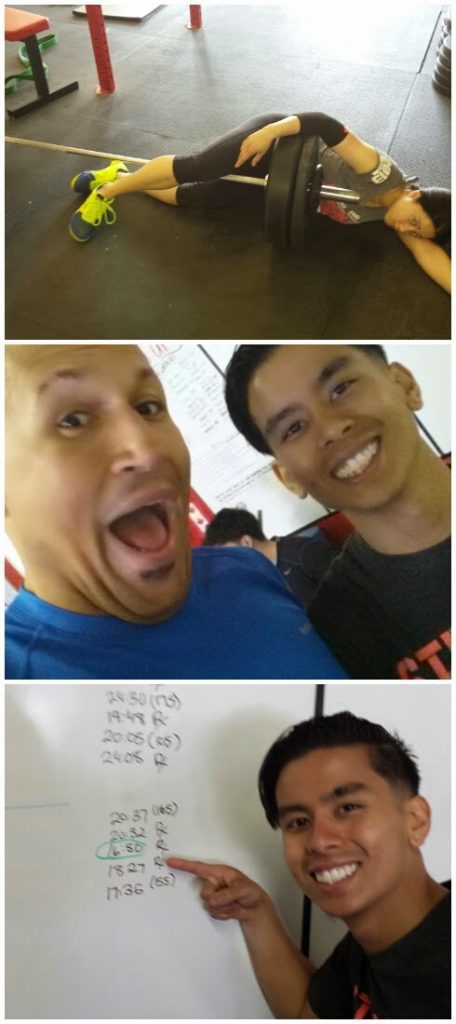 Baz after the WOD, Beez and Zach before the WOD and Zach highlighting my score
There are a few things I came to realize today as I was out
shopping for appetizers (for tomorrow's Easter function in K-Town).
Some People are exceptionally stupid (if you don't back your
car up 3 feet in the underground, no one is going to go anywhere)
You can't fix said stupid, not even with duct tape (although
I have yet to try a rocket launcher)
Don't attempt to shop at Loblaw's at Yonge and Yonge Blvd
(parking is dumb and people with more money then brains can't navigate a busy
underground)
It's a good thing that I've become more mellow as I age
(@SavannahJessie, stop rolling your eyes, this does not apply to when I'm
driving), because young me might have lost his cool. Thank goodness it was
Coach Z's (@zlreyes) birthday and he programmed Deadlifts. No matter how stupid
life gets, Deadlifts always seem to make everything better. I think your
original idea of shotgunning a beer instead of doing the Squats might have been
even more fun, but we probably did the smart thing.
Warm-up
2 Rounds of
5 Inch Worms
10 Good Mornings
15 Squats
There was no strength portion today, just the birthday WOD.
Now flashing back to last year, @SarahBassels and I firmly agreed that this was
going to be way easier. I did miss #IronAnne today (we were the only team to
finish last year), but today was going to be a solo mission. Speaking of missions, after watching
@SarahBassels get this one done, @zlreyes created a goal for the #1030Class,
#BeatBaz.
Shotgun
22 Squats
400m Run
21 Deadlifts (@225)
21 Bar Facing Burpees (Two Foot Take-off and Landing)
22 Squats
400m Run
21 Deadlifts
21 Bar Facing Burpees
22 Squats
400m Run
21 Deadlifts
21 Bar Facing Burpees
It was a little bit brisk outside, but the sunshine made it
a lot easier to handle the Runs. You had to treat this WOD just like 14.5,
don't stop moving. That was my driving motivation, just keep moving. I managed
to get this one done in 16m50s at RX (sorry Baz) and it felt freaking
WONDERFUL! The ability to keep moving and do all the work. The whole #1030Class
rocked it and finished all sub 21 minutes. Totally amazing.
BWOD
5 Pull-ups
Glute Stretch
Hamstring Stretches
5 Candlesticks
Ankle Mobility (Plate)
Knee to Wall
Happy Birthday @zlreyes and Happy Easter everyone. Tonight
there's some ping pong on deck and then Turkey tomorrow (mmm… turkey and the itis…).
Everyone stay safe and try and get out and enjoy the lovely weather. If everything goes as planned, you may here
from me again tomorrow, I will attempt my first outdoor run. It won't be a long one, but with 3 weeks
before the SportingLife10K, training needs to ramp up.
One last thing, if you have some extra change sitting
around, please consider donating to my Ride for Heart. Every little bit helps. I've
raised just over $1750 and need some help to get to my goal of $3000. Please
click the link below to donate.
Beez