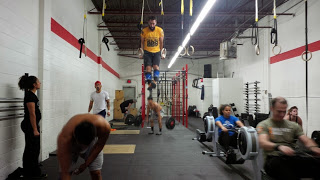 So with the end of 2013 and the first few days of 2014 I'm
closing out with 5 of the last 6 days @CrossFitCanuck. Now this is more than my
usual 4 days a week, but I've been feeling exceptionally good and the progress
has been coming fast and furious (not to be confused with The Fast and The
Furious). Last night was a long heavy session followed by a burner and it was a
stupid amount of fun. Now this pace may not be sustainable with real world
commitments (stupid 9 to 5 non WOD hours), but I will give it a go as I try and
make my 2014 goals a reality.
Warm-up
500m Row
2 Rounds of
5 Inch Worms
10 Beat Swings
5 Push-ups
10 OHS
I attempted the OHS with the PVC and while I got depth, it
still didn't feel good. @SarahBassels and @luvmousey have a specialist that
they've been working with and I think I will see if he can get this shoulder
back to 100%. Still besides the lack of overhead lifting it's been a banner
start to the year. We started today with the 'Walking Wall of Snatch'. It was a
complex that we ran at the Canuck Games, but because it involves OHS and Snatch
I had to modify. I would be working on a 3 Rep Deadlift. 1 Wall Walk, 3
Deadlifts. Go up 10lbs. 2 Wall Walks, 3 Deadlifts… There was a 10 minute CAP
and it was sweet! Sweet? Well from the Games (where I got my thighs to the
wall) to today (where I had my chest against the wall) there has been some
improvement. I finished with 4 Wall Walks and a Triple Deadlift of 255lbs.
GymNasty Grace (20 minute CAP)
3 Rope Climbs
20 HSPU (Box)
30 Knees to Elbows
20 Ring Dips (Green)
3 Rope Climbs
Then…
30 Front Rack Lunges (@135lbs)
I finished the Nasty part in 7m50s and the whole WOD in
10m57s. The coolest part though was I had maybe my best Rope Climb EVER! Ever?
Yup! Before my shoulders got tired and my feet took a vacation I put together 2
climbs where everything was working. Good pulls and SOLID foot locks. Now that
has never happened (not even when I made it to the top). What a difference it
makes when your feet work properly. The coolest part though was how hard
everyone pushed today to get through it. Totally amazing to watch.
BWOD
10 Pull-ups
Glute Stretch
Shoulder Mobility
Shoulder Stretch
Ankle Mobility (Plate)
My body was pretty gassed by the time we did group mobility,
but it was great to WOD with a bunch of Canucks I haven't seen in a while (ok,
seen maybe, but haven't WOD'd with). My goal is a light Run or a Spin tomorrow,
but it will all depend on how the body is feeling. It's been a busy week, but
what a great start to the year.
Beez