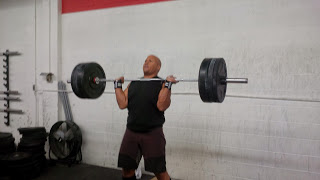 Ok, so I like the Row. We'll get to that in a second though.
As we begin the next 600 posts, I almost broke into tears when I saw today's
WOD @CrossFitCanuck. Being limited because of injury means you have to modify
and modifying sometimes leads to working a movement a little too much. When I saw
today had Front/Back Squats in the strength portion I was prepared to roll
over, pull the blankets over my head and wait until Saturday. Thankfully I have
a little more intestinal fortitude than that and Coach D (@DefconRX) had other
things that I could work on instead of Day 3 (out of the last 4 Squatting). Variety
is the spice of life they say…
Warm-up
400m Row
2 Rounds of
5 Squats
10 Push-ups
5 Wallball (@10lbs)
10 Kettlebell Swings (@35lbs)
Here's where modifying comes in. Instead of the Squat Complex and overhead
work, I would be working towards a heavy Power Clean/Hang Power Clean complex. I
had some issues hitting the Hang Power Clean because I was trying to muscle
them instead of using my hips, but I did manage to hit them eventually as I worked
my way up. I successfully hit the complex at 185lbs, but I attempted it at
205lbs. The Power Clean was fine, but I got
discombobulated on the second component. While I was up at 205lbs I decide to
attempt a 1RM Power Clean @210lbs. NAILED IT! To get ready for the WOD I tried
a Kettlebell Snatch @15lbs, but it was no dice. Heavy mods.
WOD
AMRAP (8 minute CAP)
8 Power Clean to Front Squat (@95lbs)
8 Ring Dips (Green Band)
16 Heavy Russians (@50lbs)
Then…
2 minute ME Calorie Row
That complex of Power Clean to Front Squat was tough on the
ol' chubby digits, but it was great to be able to still work. I banded up
(a-lot) to make sure there wasn't too much stress on the wing. It's frustrating
to not be able to lift, but as long as you still do what you can, it's a win.
We were counting reps and I finished with 113 (3 full rounds + 1 Russian).
There was a line for the Row, but I was uber excited to see what I could hit.
Now can be a little competitive (sometimes) and the high Row of the day was 48
calories in 2 minutes. I went all out and had a really good pace and managed to
finish with 60 on nose. It was tough to get air for the last 30 seconds and
there was no way I could sustain that pace for more than 2 minutes (or so).
Cash-out
Mobility
No BWOD tonight, but I did work on trying to open my
shoulders. I'm hoping that as the flexibility increases, this irritating
condition will eventually go away. Friday off and back to the box Saturday with
Momma C's Christmas Cookies. Make sure you get in for some holiday cheer.
Beez