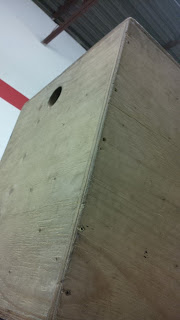 I'm not kidding, birthday WODs really will be the end of me.
So with that in mind, HAPPY BIRTHDAY SARA WAKEFIELD! On this freezing Saturday morning I peeled
myself out of a nice warm bed and prepared to beat the snow. Get to
@CrossFitCanuck and get home before the snow starts to accumulate and the
morons forget that it's not summer on the roads. It was a little tough because
I was up waayy past my bedtime last night. Thank You to Marnie and @Nipshank_FF
for hosting a very nice Christmas get together with enough to feed a small army
of hungry people. Considering I was very well behaved in the libations
department, it was still a bit unpleasant to get moving this morning.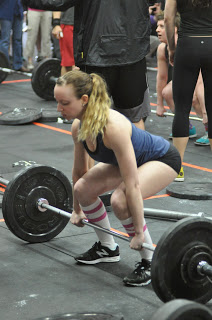 Warm-up
40 Jumping Jacks
30 DUs
20 Squats
10 Inch Worms with a Push-up
There was a boatload of Mountain Climbers included in the
Warm-up, but after only 1, I knew my wing wouldn't be able to handle it. Coach
Baz (@SarahBassels) also had to come through with some modifications because as
much as I really WANT to, I am having difficulty going overhead. Sucks. So
instead of the 15 minute Thruster Ladder, I was doing a Front Squat Ladder
starting at the same weights. I was on the 10lb plates to make sure I got to
the bottom. Every minute we added 10lbs to the bar and started at @95lbs.
Surprisingly I felt really good and made it to 225lbs. Not too shabby, a 50lb
increase from Wednesday. Tavia still wants me to work on engaging my core
because apparently I'm leaning back to receive the bar.
This is where the day got a little interesting…
Wakefield (For Time)
27 Pull-ups (Green)
Then…
3 Rounds of
30 Box Jumps (24")
30 Push-ups (modified)
30 Squats
Then…
27 HSPU (Box)
Who is finally at RX Box Jumps? THIS GUY (Two Thumbs
Pointing). Tav, I wish you could have stayed to see them, no step ups, just straight
up hops. I'm not sure what clicked, but while the 930a class was finishing I
made a test jump in secret at the back (pretty sure @paulperena may have seen
it). I landed it (to my shock) and it wasn't so bad. As we setup for the WOD, I
couldn't justify going back down. If I ran into trouble, I would have moved
back down, but I got ALL 90. I finished the WOD in 18m58s, but had to band up
from Purple to Green and change the Push-ups from deficit to modified. Didn't
make me feel good, but I was struggling.
All in all it was a very successful day at the box, but with
the snow coming down and lots to do today, there was no BWOD. We did sing Happy
Birthday for the Cash-out and had some of Momma C's homemade Xmas Sugar
Cookies. @missade3 the cookies are in the office. They aren't paleo, but they are delicious and
festive.
If you have to venture out today be careful peeps. There may
be some treadmill time tomorrow, but I'm not making any promises right now.
Beez