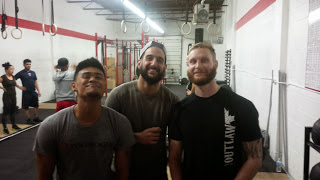 Fear the Beards
Sometimes even I need a swift kick in the pants to get
moving in the right direction. Tonight one motivator was very active (Thanks
Silky) and the other didn't even know he did it (Thanks @matt_5577). I'm not
sure if I was just feeling off today or if I'm getting sick, but about 4pm I
hit a WALL and started to get chills. Now I'm never cold (almost) so I wasn't
feeling awesome, but Silky got me moving to do my homework and @matt_5577's
comment many weeks ago about finishing made me finish the Burpees even though I
hit the CAP.
Warm-up
2 Rounds of
10 Wallball
10 Heavy Russians (@35lbs)
10 Lunges
We were in a hurry today because there was a lot to get
through, but for the second consecutive week I couldn't even complete Warm-up
B. I was using PVC for goodness sake. Ugh. We went with a 30 minute running clock to
complete a 3RM Front Squat, 2 RM Squat Clean and then ME Unbroken HSPU. I
managed to hit 215lbs on the Front Squat with good form and depth and then hit
a PR Squat Clean @175lbs! Squat Clean! Full Depth! Looks like all the Squats
are starting to pay dividends. I finished up with 18 HSPU from the box, but
they were tough and I thought I was going to eat the floor a couple of times.
"285" (20 minute CAP)
50 Heavy Russians (@70lbs)
50 Lunges
50 Knees to Elbows
50 Snatch Grip Deadlifts (@95lbs)
50 Heavy Russians (@70lbs)
50 Wallball (@14lbs)
30 Burpees
So I'm not sure why this WOD is called "285", but there were
reps forever. Tavia had to modify for me because this stupid wing isn't getting
better, but I was still able to give it a good go. I managed to finish 13
Burpees in the 20 minutes, but remembering @matt_5577 I pushed through and
finished the other 17. They sucked. It felt good to slug this out with the
#530Crew because everyone worked so hard. It's a privilege to sweat with you
guys!
Cash-out
8x250m Sprint Row
Originally it looked like it was a running Cash-out. I was
not going to partake until Tavia clarified that she wouldn't do that to us. It
took longer than normal, but we got it done. At this point I had no desire to
do anything else. Silky came up and said that she had done her homework and I should
get mine done too. Ugh.
BWOD/Homework
50 GHD Sit-ups
50 GHD Back Extensions
Silky, @missade3 and Carm will verify it. After that, my
body said it was time for food and a solid 9 hours sleep. One of those things
will happen (guess which one).
Beez