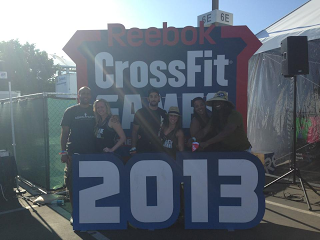 What a performance. I know most of you were not streaming
the games to multiple TV's like us, but if you did you saw an amazing display
of what the human body can do. Some of the Crazy Canucks (pictured above) made
the trip to the left coast and took in the spectacle. I can't wait to hear the
stories, see the pictures and the cool swag that they picked up. A side effect
of the games though is a whole plethora of new WODs and components that Jillian
can throw at us. It's cool to be able to
perform the same WODs and to see what they went through this weekend.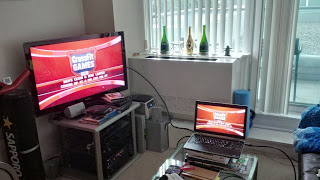 Warm-up 'A'
400m Run
Ok, somehow with the craziness in the WOD for the 430p class
I didn't get a chance to do the 3 minute Cindy, but I did lots of work to try
and loosen up my shoulders. Today was going to be a combo platter of hot and
crispy and would be combining a tough strength section plus a one of the WODs
form the games. Tavia gave me some modifications to make sure that I would get
a chance to play tonight without causing any damage.
Snatch Complex (modified EMOM for 8 minutes)
2 Deadlifts (@100lbs for all movements)
Low Hang Clean
Front Squat
High Hang Clean
3x Push Press
Now the weight wasn't anywhere near what I could push, but
working overhead has been tough and I didn't want to over-extend myself. It was
a fun set of movements, but it was tight to get everything in and have any rest
before the next round. Once we completed this, we headed to Death by Snatches.
Now Death by anything other than chocolate is a serious thing when you are talking
CrossFit. I would be doing Death by Clean & Jerk, but you get the
idea. 1 lift in the first minute, 2
lifts in the second and so on. If you miss a lift in the ladder then you are
out. I made it to 8 minutes when Tavia capped me out. With the weight I was
pushing I could have kept going and we had to move on.
2013 CrossFit Games Ascending Chipper
5 Deadlift (@235lbs)
10 Chest to Bar (Blue Band)
15 Cleans (@145lbs)
20 Pull-ups (Blue Band)
25 Snatch (Modified – Shoulder to Overhead @100lbs)
30 Knees to Elbows
Oh baby! That was one spicy meatball. I started off with a
Green Band but the shoulder couldn't take it (ARRRGGHHHH!!) and I had to move
to Blue. Now my weights weren't RX (which were crazy numbers by the way) but I did
manage to finish in 11m42s. Everyone in the #530Crew were working like crazy to
get as much done as possible. Big High-5 to @SarahBassels for gutting it out
and a Big High-10 to Robin for getting back on the bar after the CAP and
finishing her last 3 reps.
Cash-out
1x ME Push-ups
1x ME Pistols
No after the games I bet there will be a massive increase in
people doing GHD Sit-ups, especially after the descriptions given by the
announcers. GHD Back Extensions strengthen the 'Go-Muscles' and GHD Sit-ups
strengthen the 'Show-Muscles'. With the training starting to ramp up and with
actually considering some Two-a-Days it's time to make sure the B-Wod sees some
more action.
B-WOD
6×10 GHD Back Extensions
5 Deep Rig Squats
3 Assisted Deep Squats (Thanks @SarahBassels)
Shoulder Stretches
25 DU Attempts
25 GHD Sit-ups
Tomorrow is a scheduled run day,
Beez