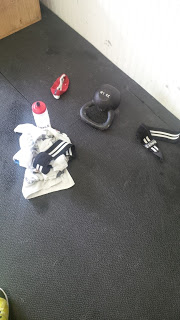 Now with the doom and gloom that has been going on, I decided
that I was going to pull back on some of the motivating I do outside the
box. My normal victim is @CADPRO00 who
has the occasional difficulty not yielding to his temptations (read as McDonalds
and other unhealthy pursuits). I
mentioned that to him today and he was adamant that I keep on him because it
helped him to stay focused and motivated.
Ask him after today's WOD and that answer might have changed. With the
Wasaga Comp this weekend, for the first time in FOREVER the #530Crew consisted
of 2 people (2 more were just doing strength and the Wasaga prep). 2 people means Tavia was laser focused on every
movement we made, no slacking reps (not that I would ever do that) and focus on
maintaining excellent form.
Warm-up 'A'
Shuttle Run (Easy)
Lunges
10 Kettlebell Swings (@25lbs)
Shuttle Run (Medium)
10 Kettlebell Swings
Shuttle Run (Fast)
Duck Hops
10 Kettlebell Swings
Warm-up 'B'
See Previous
After the explosion of HSPU, right out of the gate I was in
trouble. I was determined to put in a
good effort because this is the last WOD till next week, but I couldn't get
into a Squat Clean. I couldn't get my elbow up even at a light weight (DOUBLE
GRRR!!!). Tavia gave me some mods and I would be doing Front Squats (@85lbs) from
the rig and then Lunges using a 50lb Kettlebell. EMOM for 7 minutes @CADPRO00
and I hammered away, 3 Front Squats and the 3 Lunges. It was crispy, but I was really excited that I
managed to get through.
WOD (4 Rounds for Time, 20 minute CAP)
400m Run
10 Kettlebell Snatch (@35lbs)
10 Kettlebell OHS (@35lbs)
20 Pistols (20" Box on its Side!)
Here's where the day turns. I had to modify because of this
stupid shoulder, but I graduated today from the red bench to assist my pistols
to the 20" Box flipped on its side. It was hard, but the only way to get better
is to do the hard things until they become easy. Now there was a moment during
this WOD where we feared that @CADPRO00 had gotten lost, but he was just a bit
tired from the long lunch he had. I hope
he learned his lesson, no big lunches before you WOD. I finished 3 full rounds
and 6 Pistols at the 20 minute CAP, but following the motto, I completed the
rest after time had expired. Congrats to @missade3 who took a page out of the 'Just
Finish' book in the 630p class and finished the last reps of her WOD after time
expired (Bravo!).
High-Fives all around, but the aftermath of the WOD was
rough. Just look at the photo, it was a wasteland of sweaty components that had
to come off. Gross. I looked around and @CADPRO00 looked very comfy on the
bench. Time to get up bro, we have a
Cash-out. He complained for a minute, but eventually he get the motivation he
asked for and he sucked it up and got moving.
Cash-out
6x100m Sprints
There was no B-WOD to speak of, but I did Roll Out and do
some light weights to stretch my shoulder and pectorals. They were most
uncooperative. It was a good day and I'm happy to have finished it. The Pistol graduation was unexpected and I am
certainly feeling the extra depth right now. 2 days of rest and then Race
Day! Good Luck to all the Canucks who
are competing this weekend, wish I could be there to cheer you on. You guys
will be AWESOME!
Beez