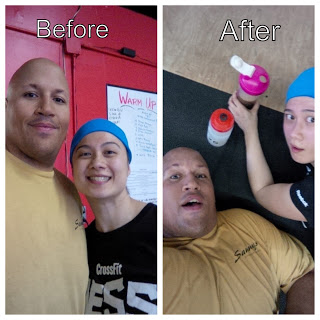 I was going to post a definition for the word FUN today, but
on second thought if you don't know what it means by now, well you have
problems. As we all tuned into @CrossFitCanuck to see the WOD, we were greeted
with a picture of the Mystery Machine (Scooby Doo) and the message saying it
was going to be "a Mystery WOD" and "it's going to be FUN". Seeing the word
FUN, capitalized, made my blood run cold. Fun in the @CrossFitCanuck dictionary
means get ready to work you're a$$ off. FUN means Buckle Up, This Gonna Be
Bumpy.
Warm-up
400m Run
5 Pull-ups
10 Push-ups
15 Squats
I feel a bit bad for Alain who got talked into making class
by Carm (with an assist from @SarahBassels and Beez) and had no idea what he
was in for. He caught up to us as we were
working through the first run and after some chatting he turns slows down and
exclaimed "is this that Murph $hit?" That's right big man, welcome to the WOD
that never ends.
MURPH
1600m Run
100 Pull-ups (Green Band)
200 Push-ups
300 Squats
1600m Run
HOLY CRAP! That right there is a WOD I don't want to see
again for another year, but in the end it was awesome to grind through.
Everyone who made an appearance worked hard and gave MURPH a whopping. We could break up the Pull-ups, Push-ups and
Squats any way we wanted (I went for 10, 20 and 30), but the Runs had to be completed as they were. I
finished in 1h03m38 (@DefconRX gets a high-five for the NO CAP). Everyone
worked hard, but still found time to encourage each other to keep going.
I won't lie, once I found out what the WOD was I was wishing
I hadn't Run last night. It wasn't as bad as I thought though and I DIDN'T
WALK. That may not sound like a big deal, but you try Murph and let me know how
it goes.
Congrats to the #1030Crew @zlreyes, @SarahBassels,
@katieandrien, @missade3, Anne, Carm, Alain, Andrew, Kris and Darryl H. Murph =
Done.
Beez