There was a time not so long ago that packing for a vacation meant just the essentials. Day wear. Evening wear and occasionally swimwear. Workout clothes didn't even enter the conversations and packing extra shoes and gear seemed like a lot of hassle and effort. Heading out for vacation can't even be contemplated without at least some running shoes and shorts packed away, just in case. The only thing that doesn't get included in the luggage is the desire or motivation to get out and do something. That, you have to find all on your own…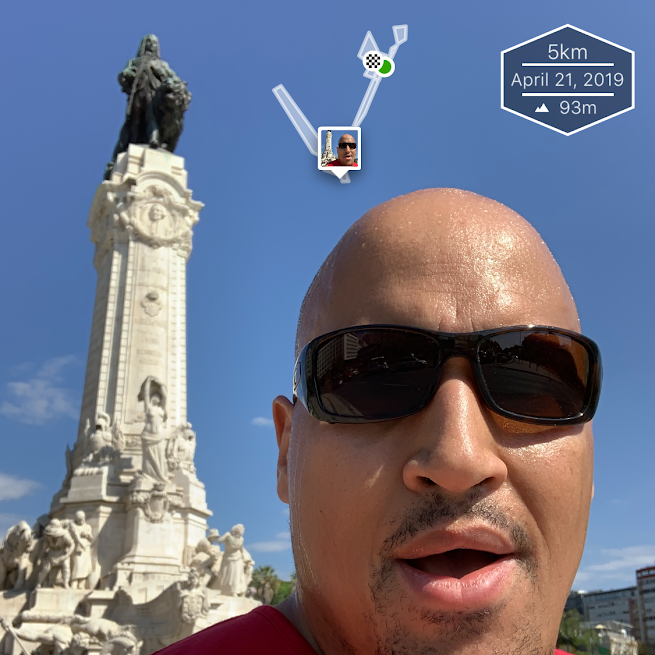 The City of Seven Hills
Seven Hills? Seven Million Hills would be more accurate. While @savannahjessie and I were on our Portuguese vacation, we did manage to do a whole lot of activities. This post will be about the dedicated running activities though. A thorough recap of all our adventures will be posted shortly. This run though was all about stretching my legs after a long flight, a walking tour around said seven million hills and a bicycle tour.
The thing about Lisbon, much like the party goers, is that the later things get the farther downhill (literally) they go. The early parties are on the top of the hill and as it gets later, places closer to the water get hopping. When I started out on my Run, I did the same (forgetting a very important thing… what goes down, must come back up). My goal was to get to the traffic circle and come back. Instead I found a really big Portuguese flag and a really large hill. Feeling very motivated, I went up the hill, back down and then back up the hill to the hotel. It was a cracking good run at 3.12 miles in 38m36s which worked out to a pace of 12m21s/mi. The exciting stat though was the 305ft of elevation gain and 742 calories burned.
The Unvanquished City
As our time in Portugal wound down, there was one last chance to get out on the streets for a Run. It was interesting to see the difference between the two cities and the totally different landscapes, scenery and just general feeling. This one was significantly harder because I was tired. My legs were tired. My ankle was sore (missed a broken step and twisted my ankle) and we have been moving for a few days. Still, with a little bit of encouragement, I did manage to get out, not get lost and get a workout.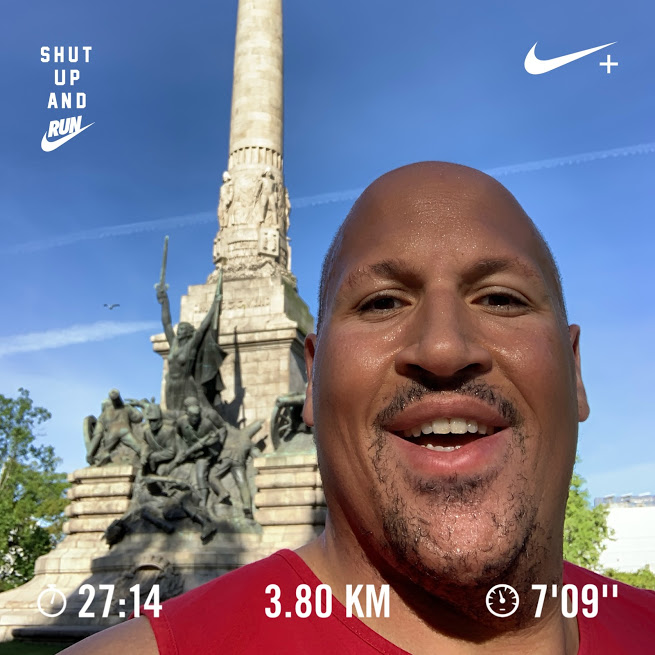 It felt like with every step I was shaking iron and rust off my legs, but as I got going I started to feel better. The route was a little more difficult and I did make a wrong turn. Thanks in part to the previous evening stumble home made navigation easier. There was also way less elevation so my 2.37 mile route took 27m15s at a pace of 11m31s/mi. I only gained 66 ft. of elevation (thank goodness), yet I still managed to burn 502 calories. I'm not exactly sure how I managed to maintain that pace considering. By this point I was being fueled by bread, cheese, olive oil and wine, but it felt good to be out. Porto, was a very beautiful city.
So How Did The Packing Go?
It's interesting that as I've gotten older, I've thinned out what I need to pack to be successful. This post that shows best case (What to Pack) and bare minimum and for this trip it was bare minimum packing. Shoes, shorts, and compression… Along with my Fenix3HR (watch) which I wear day-to-day and my heart rate strap. Best part about packing running gear is that you can use it for everything else too. I used the shoes to hike through the cities and countryside of Portugal. The clothes for workouts in the hotel. The Fenix to track everything. Nothing goes to waste.
The only thing you need to do is find the motivation and get moving…
Beez