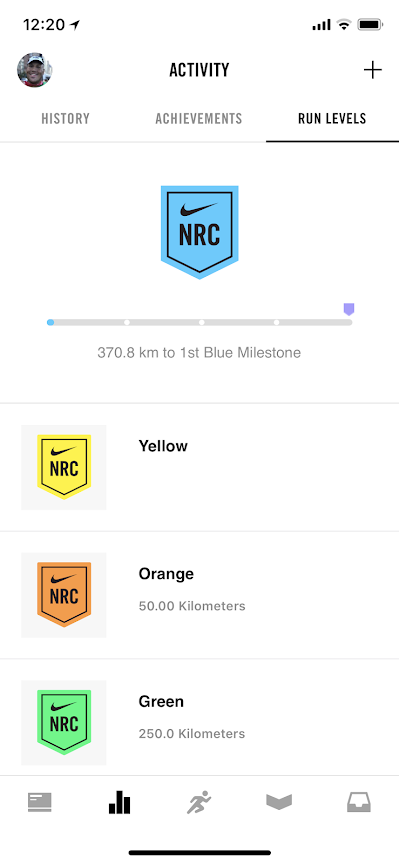 Remember me lamenting the end of the Nike+ Fuel app (Link). Well it seems like the Big Swoosh is doubling down with updates to the Nike Running app in the form of the Nike Run Club.  Now most of the features aren't new and if you've been using the app for a while you might not even notice. Fuel points haven't made a reappearance, but they are now pushing more content here including badges, guided runs and rewards. Depending on where you live (USA gets a bunch more stuff), you can also get access to discounts or access to exclusive merchandise.
Tracking and Challenges
I've been using the Nike Running app for a while. I used it in the run up to the Chicago Marathon last year. Tracking my distances and using the marathon training (loosely) to guide me on the distances I should be looking to achieve. The app itself also introduced speed/interval training to my running plans which was something I had never used before. You basically put in the distance you are competing in and when and the app back schedules your training.
I recently joined the BLUE level (see photo above) and can now say I've used the app to track 1,000KMs. Each level has milestones within it and the app color changes to match your level.  There's even talk in online circles about the mythical VOLT (electric yellow) level. To get there you need to log 15,000KMs (lifetime). Apparently there is some pretty cool swag that Nike will send to you if you make it (including a stainless steel water bottle laser engraved with your best 30 runs).  Check back in 38 years and I will update you on this…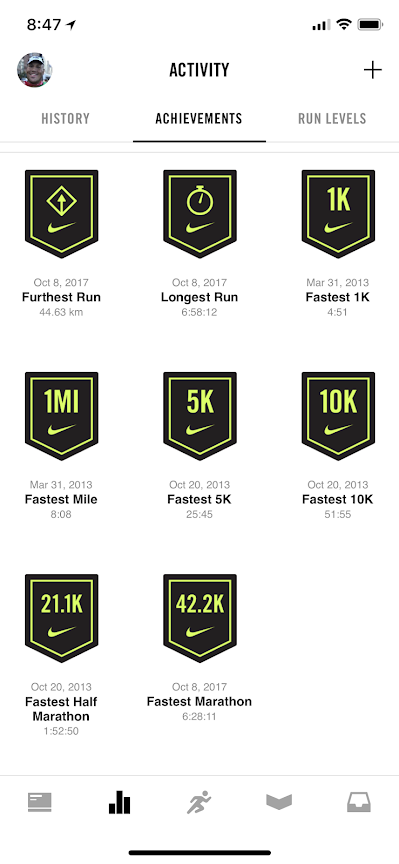 As a bonus, the Nike Run Club app can now import runs from other platforms.  I recently connected my Garmin Fenix 3HR and it is more convenient to only have to worry about tracking on my wrist instead of multiple places. It has worked flawlessly.
Rewards
Remember the fun Nike+ Fuel badges? Well the NRC app has a take on that concept to help motivate people to get out and about.  They aren't nearly as colorful, but they are pretty clever. I the photo you can see I've managed to capture Arriba (Cinco de Mayo) and Ghost Runner (Halloween) among others. They usually fall on American holidays, but there is no advance warning if a badge will be coming available. Nike has also introduced Weekly and Monthly Challenges that you can compete in for digital badges. They provide that little bit of extra incentive to get out (especially if you are close with time running out).  Again, it's absolutely meaningless fun, but it is fun to collect the set.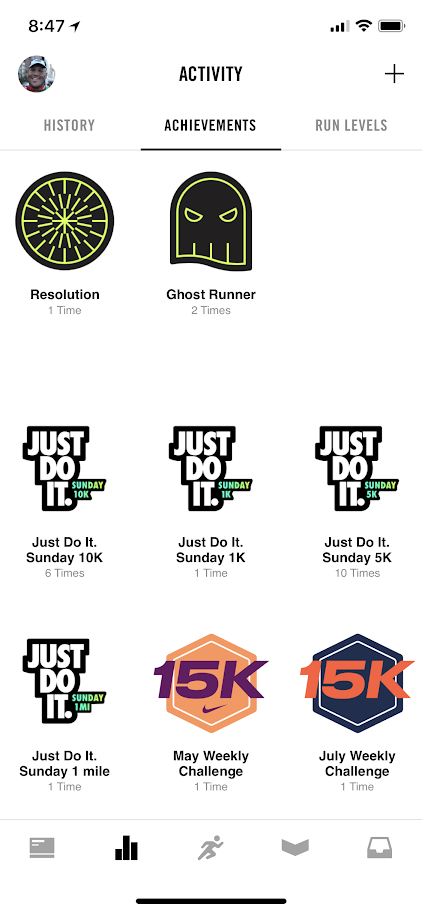 Community
The other big feature I want to talk about is the community aspect. You can add friends to the app and it displays a leaderboard for anyone who has logged KMs. It doesn't stop there though, you can also search for running clubs in your local area (or the local area you are in while travelling).  The Challenges will give you a leaderboard for everyone that is competing and what your standing is (and there are folks who run CRAZY distances).  Like all good social platforms you can post photos of runs and give your friends likes. It's fun if you can get a little rivalry going with the folks on your friends list.
The new app has done away with some things and has tried to be more things to more people. From sitting on the couch to getting ready to run your first 5KM, this seems to be something that can help. Provided, that you are willing to lace them up and get out there. I've just loaded up a new customized training program to see if I can back into half shape for October. That being said, I have no plans to run any races this year, but I liked the shape I was in while training for Chicago.
Beez