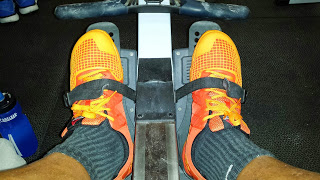 Monday (Nov 10) – Welcome back to another
week of FUN! Now today's post (it is Thursday morning) is a little late, but
there has been a whole lot going on. Now
it is a TOP SECRET, but I can give you the project name. Welcome to Operation
Grand Slam, geeky I know, but I am a pretty big Bond fan (for those of you that
know, the name comes from Goldfinger). Now the weekend (for a change) was
pretty laid back and surprisingly when the buzzer went off I was out of bed
like a rocket and straight to @CrossFitCanuck. Welcome to Week 4 Day 1.
The golden (or should I say orange) ray of
sunshine this dark morning was that I got to wear my new Nanos for the first
time (Seen above strapped into the Rower).
BROW
512m Row
10/10/10/10/10
5x100m Sprint
16 Round TABATA (20s on, 10s rest)
Now Tavia wanted more drive during the
TABATA, but I was pulling hard in each round. As I was reminded, the 2,000m Row
is a sprint and I need to be able to go all out for the entire thing. To get
there, it will be intervals, intervals and more intervals. The total time of
work was 5m20s and I covered 1,655m at a pace of 1m36.6s/500m.
Now I was supposed to WOD and Shadow on
Monday evening, but Operation Grandslam was in full effect so that didn't work
out. My next scheduled Row/WOD will be Wednesday and I hope I will have a
better idea of the Projects' status.
Cheers,
Beez