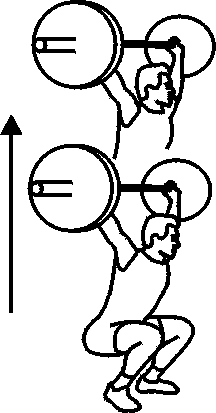 Oh the sweet structure of routine. Now
before you think that CrossFit is boring or the programming is 'the same old
same old', give your head a shake and let me explain. I'm I creature of habit.
That is how I find success. If you don't have to think about something and make
it routine, then you don't give yourself the opportunity to fail because 'you
don't feel like it'. Sue Ann once asked me why I always showed up on the same
days. My answer was 'if you make it routine, you don't have to think about
where to be, you know where you have to be'. The programming @CrossFitCanuck is
ever changing, but over the last little while the #530Crew has been
fluctuating. It just was weird. The last few classes have reminded me of the
good old days, @SarahBassels is back training, the classes are packed and the
energy gives me that extra little bit of sauce when the WOD gets tough. Man do
I love 'routine'.
Warm-up
2 Rounds of
5 Beat Swings
10 Thrusters (@45lbs)
15 Alt. Lunges
Tonight we were working the dreaded OHS. We
had 8 rounds (1 minute each) with 30 seconds of rest in between of 1 Snatch
Grip Deadlift, 1 Hang Power Snatch and then AMRAP OHS. We started with the bare
bar and then added weight each round. Final score was max weight lifted plus
OHS reps. Now with my mobility, I have trouble with the OHS, my max is 100lbs,
but tonight I got a lot of work in. I maxed out at 90lbs and hit it for 46 reps.
I was pretty happy with that result. Next up a 9 minute EMOM, alternating
between Strict Pull-ups and Rest. It felt pretty good, I was tired, but the
reps kept coming. It looks like the shoulder cycle has paid off.
WOD
10 minute Ladder of
Thrusters (@100lbs)
HSPU (24" Box)
Burpee over Bar
Thrusters. I took a poll and I'm not the
only one who gets Thruster burns, but I must be the only one who doesn't tape
up. Idiot. Everything was heavy, but good depth and full extension (with a bit
of a pull on both shoulders). I finished
6 full rounds and up to 1 HSPU. It was only 10 minutes, but it felt much, much
longer.
BWOD
Glute Stretch
Hip Stretch
Back Stretch
It was a quick BWOD tonight because I had a
session with @Wardy_ RMT. I've been in the middle of Headache Hell for the last
10+ days and @SheilaRMT and Dr. Spin have already had a go. She focused on my
neck and traps and I'm very appreciative of the last minute appointment. Gracias!
Beez