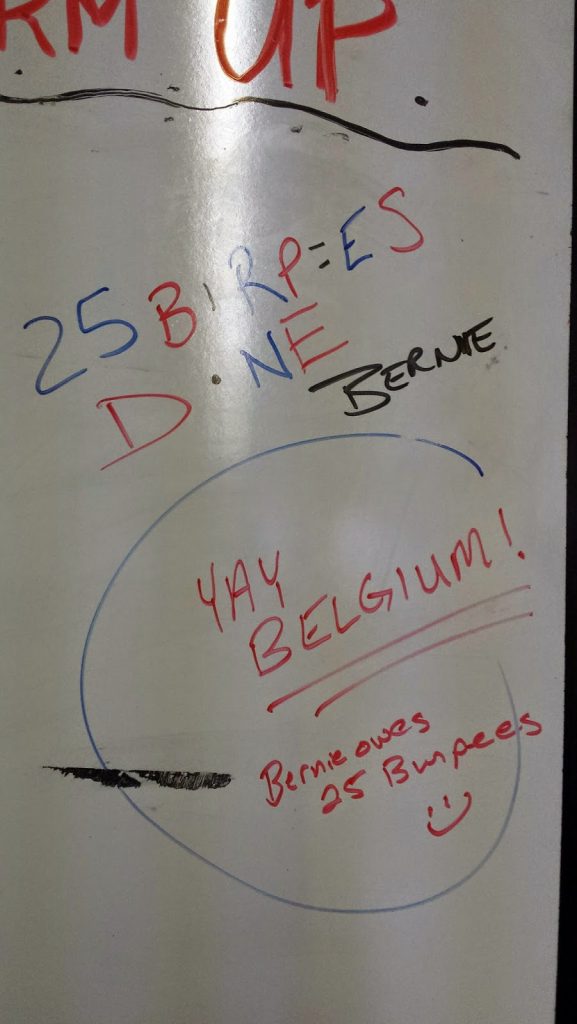 It has been a long time since I've hit up 4
classes @CrossFitCanuck, but that's how the schedule worked out this week with
Canada Day and 54.40 at the Kee. @Keilshammer may laugh, but keeping track of
aches and pains helps me look back and see where I was at any given point of
this journey. The weird thing is that the ache has been pretty solid and steady
since we started Texas. For the first
time in a long time bits are sore that have been pretty good through the whole
adventure. Maybe I just wasn't designed for heavy Squats. Who knows.
Warm-up
50 Skips
40 Jumping Jacks
20 Push-ups
10 Squats
20 Jumping Jacks
These new group Warm-ups are pretty
intense. With the heat of summer and all these movements, we are definitely getting
warm. I've been skipping the Mountain Climbers because my ankle still feels
jammed and I'm hoping the Voodoo Dr. Ian can get everything moving again. If he does, I'm upgrading his nickname to Dr.
Merlin. Today was a weird one, as we had a Hero WOD mid week. Before we got
there though, it was 10 minutes alternating between HSPU (Box) and Ring Dips
(Green). Surprisingly the Ring Dips of all things felt great. I felt like I was
getting full range of motion even though it's been a heavy shoulder week.
Nutts (30 minute CAP)
10 HSPU (Box)
15 Deadlift (@250lbs)
25 Box Jumps (24")
50 Ring Rows (mod)
100 Wallballs (@20lbs)
400 Skips
400m Run (@15lbs)
My body was exhausted and I could not
string anything together, not even Deadlifts (gasp). Part of that may have been
the giant piece of my right hand that was missing, but thems the breaks. It
took forever to get through the Wallballs and I was fairly sure that I wasn't
even going to bother with the Run. A big
'Thank You' to Coach Ade (@missade3), @zlreyes @jeffortiz for getting me moving
and for @jeffortiz for coming on the Run with me (after he had finished his
WOD). I would not have made it without you guys. Still my time of 32m02s was
over the CAP, but guess what? I don't care, the work got done.
Cash-out
25 Burpees
Always pay your debts. I made a friendly
wager with Sue Ann on the outcome of the Belgium vs USA game and ended up
losing. I really didn't care who won, but it's always nice to have a reason to
get excited about sport (and not doing Burpees is a great motivator). The USA
lost, but I know that the US goalkeeper had SA a little worried. After the WOD,
I hunkered in the corner and paid up.
BWOD
Glute Stretch
Back Stretch
Lat Smash (Supernova)
Hip Smash (Supernova)
Calf Smash (Supernova)
Hip Stretches
My body is screaming for a break so I will
see you guys on Monday. I'm disappointed
that I'm missing out on getting a Bench Press and Back Squat 1RM, but maybe I can
squeeze it in somewhere. Deadlifts are this week and I really want 415lbs.
Have a Great Weekend!
Beez