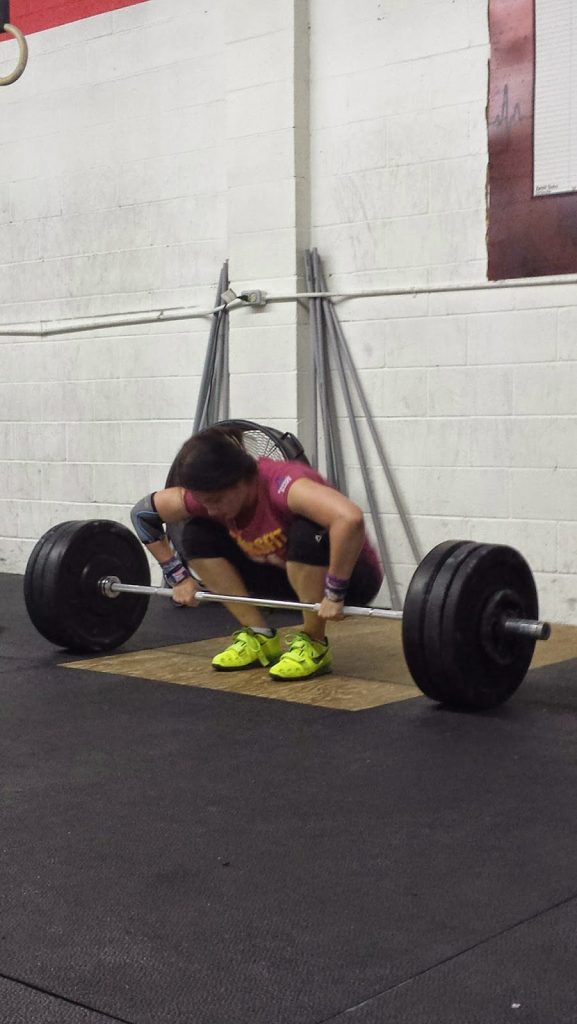 Unlike Mother Nature, the dark cloud that was hanging over
me has moved on and I'm back to feeling more like myself. Apologies to anyone
who got caught in the crossfire (I don't think anyone got it, but just in
case). On a brutal and rainy day, I was working hard to try and get through my
list of work before I depart for France. Sadly I started the day by dumping
another coffee, but happily no computer hardware went swimming (small
cartwheel). Today is my Friday (off tomorrow) and I'm joining a strong @CrossFitCanuck
contingent that's invading the CrossFit Canada East Regionals. It will be fun
to check out the top 48 men and women competing for a chance to go to the games
(and top teams), I'm super stoked.
Warm-up
500m Row
2 Rounds of
5 Beat Swings
10 Burpees
15 Jumping Jacks
It still boggles my mind that @DefconRX's Thursday 530p
class is always sparse. Today Denise and I were working on finding a 1RM Clean.
Under the watchful eye of Coach D we loaded up and started to 'Grip it and Rip
it'. Now the new PR Board has spots for
Clean (Squat) and Power Clean (but strangely no Deadlift???), so I figured I
would try and hit both. 12 minutes of lifting and I ended up with 2 PR's! I hit
225lbs on the Power Clean and nailed 205lbs on the Clean. The top of the Squat Clean did not feel
awesome (I had some strain in the front of my shoulders), but I got good depth
and I felt really solid. Next, 1 3 minute EMOM of Shoulder Press. With the
gooeyness of my shoulder, I didn't work at the percentages of my 1RM, but I worked
at what I figured would be a safe weight. I hit 3@95lbs, 3@105lbs and 2@115lbs.
WOD
5 – 10 – 15 – 20 – 25 – 30… of
Toes to Bar
*In between each set complete
5 Front Squats (@115lbs)
Now I hit Toes to Bar for the first time during the Open by
taking a run at them. While this gets the job done, it isn't how the movement
should be completed. I made the conscious decision today to reduce my lead in
and work on trying to get to the bar without the huge burst of momentum. It
went pretty well, but there is lots of work to do and I will get stronger every
day. We had a 12 minute CAP and I managed to get 14 T2B done in the round of
25. My shoulder s were pretty tired by the end, but I worked right through and
was happy with the result.
Cash-out
3 Wall Walks
3 Handstand Holds
This was originally 3 rounds, but my shoulder was finito. I
did Wall Walks yesterday and the back to back days hurt a bit. I am buoyed up
by the fact that the Wall Walks are getting easier and my nose is inching
closer to the wall every time. With the
next few days off, I really wanted to get some mobility in so there was a big
BWOD tonight.
BWOD
Knee to Wall
Ankle Mobility (Band)
Ankle Mobility (Plate)
Deep Squats (Rig)
Coach D Hamstring Stretch
Shoulder Mobility
Hip Stretch
Quad Stretch
Glute Stretch
Back Rollout (Foam Roller)
Back Rollout (Pipe)
Hip Smash (Lacrosse Ball)
Lat Smash (Lacrosse Ball)
Calf Smash (Lacrosse Ball)
While I was finishing up @SarahBassels made it in to do so
work. She worked hard trying to hit 165lbs, but had some trouble getting into
the Squat. She hit 160lbs with no issues and she has it in her.
With a big weekend on the horizon and hopefully some time on
the bike. Happy May 2-4 Long Weekend!
9 Days to France…
Beez