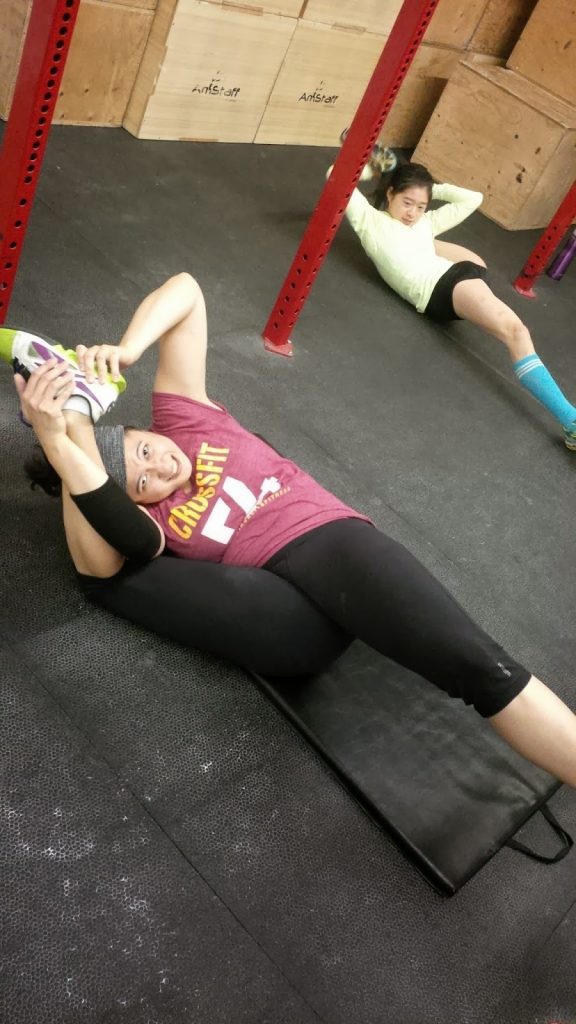 uh, Baz?
Well my body finally said it's time for a break. So after 3
whole (glorious) days off, it was back to @CrossFitCanuck for another round of
Birthday WODs. These are those moments when you celebrate (and curse a bit) the
birth of one of the family. Today was a combo platter of @AkariBatman and
@MissAde3 (Happy Birthday You Two!!). I wasn't sure how today was going to go,
but with a session with Ian on deck tomorrow (for more Voodoo shoulder work)
and a rest day planned, all out was the plan. Game On!
Warm-up
40 Skips
2 Rounds of
10 Push-ups
10 Squats
New problems. Great. As I was working on the warm-up, there
was a 'tweak' in my right knee. Now I've felt this before and there is the
potential that it isn't good. During my last season playing Men's League with
the Blue Rams, I injured my knee trying to beat out an infield hit. Result was
a tear to my patellar tendon and potentially a tear to my meniscus. Problem
was, during the MRI, they couldn't identify the tear. I'm starting to get some
discomfort and it is similar to that. I will take it easy, but I ended up
bailing on the first round of Back Squats.
Every 45 seconds for 5 Rounds we were doing 5 Back
Squats. I had to go off the rack, but I
was looking forward to it. First Round I failed @185lbs. It just was wrong.
Coach Z provided a helping hand re-racking (after saying something about being
short). Went to 135lbs and completed the final 3 Rounds. We loaded up for Thrusters next with 2
minutes on, 2minute Rest, 1 minute on, 1 minute Rest, 30 seconds on, 30 seconds
Rest and then 15 seconds on. Working at
RX (@100lbs) I completed 14, 12, 8 and 5 reps.
Death by A & A
21 Deadlifts (@225lbs)
21 HSPUs (Box)
3 Rope Climbs (Attempts)
15 Deadlifts
15 HSPUs
2 Rope Climbs
9 Deadlifts
9 HSPUs
1 Rope Climb
That was almost awesome. The Rope Climbs were killers, but
I'm getting so close to getting the foot lock. I need to practice more, but
there were a couple of attempts were it was there and I was standing. Unlike my
previous attempts, I wasn't using brute strength to get there. The Deadlifts
were fun (and awesome as usual) and the HSPU were feeling better then ever.
Soon it will be handstand attempt time. I will wait for Ian's OK though
first. I finished in 10m25s.
Cash-out
50 Heavy Russians (@70lbs)
50 GHD Sit-ups
50 GHD Back Extensions
It was a great Cash-out tonight too, everyone in the
#530Crew working through the various movements and just having a great time.
More flexibility is required for the Sit-ups, but my hip flexors and lower back
are really tight. Stretching is REQUIRED.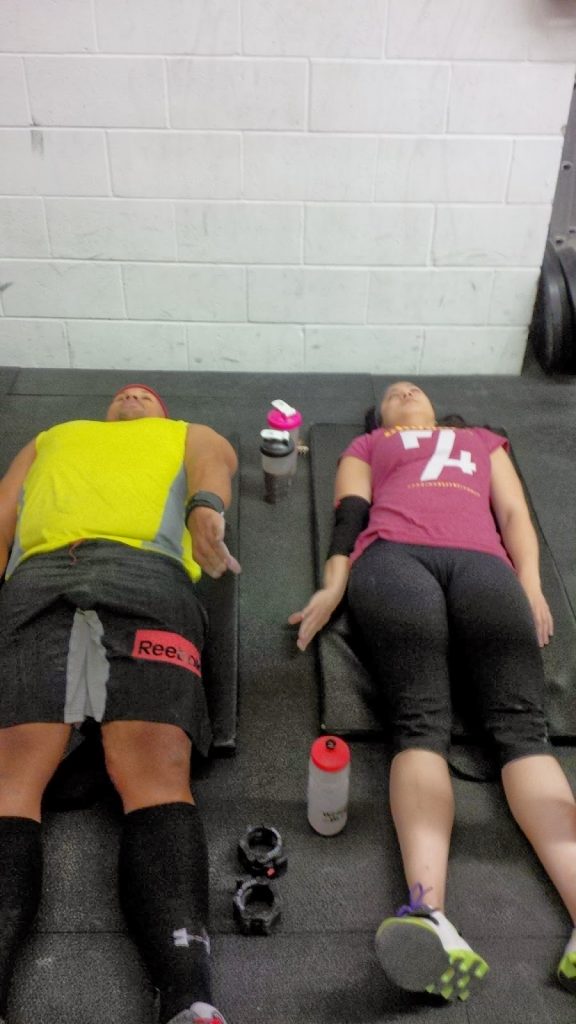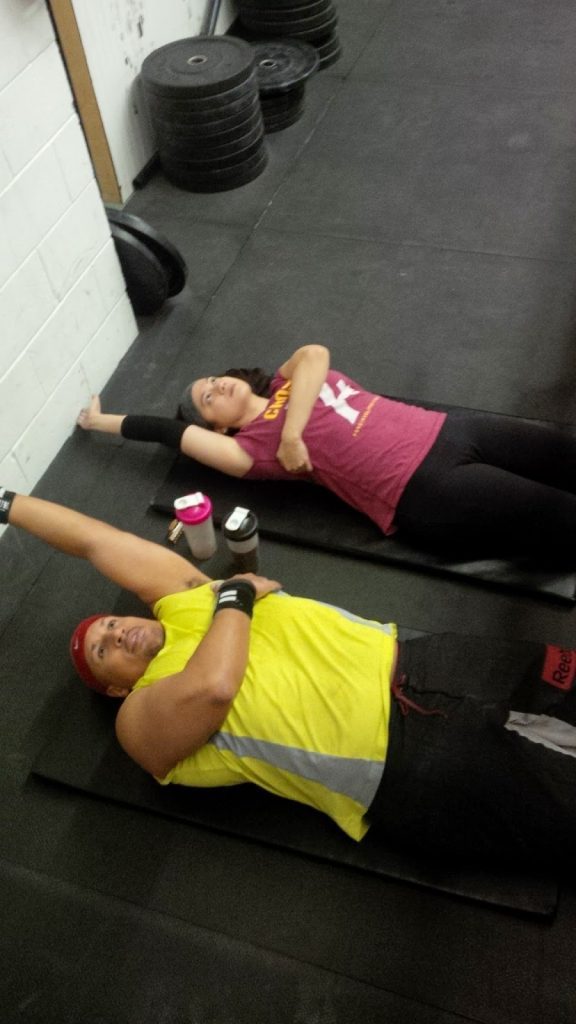 BWOD
10 Pull-ups
Glute Stretch
Hip Stretch
Serratus Anterior Stretch (pictured)
Latissimus Dorsi Stretch (pictured)
Ankle Mobility (Plate)
Ankle Mobility (Band)
Knee to Wall
Forearm Stretch
Now I've been chatting with some folks who aren't sure about
everything I'm talking about in these postings. If you look on the right side
of the blog, there is a dictionary with links to videos of some of the more
common movements. I know the format has changed numerous times, but I feel this
is the best representation of what I'm going through to get to my end goal.
That also means that I'm not 'sharing' as much as before, but trust me when I say
you guys are getting everything that's in this giant melon after a workout
(Spin, Run or WOD).
Beez