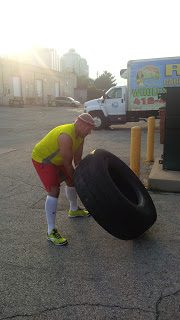 As we inch closer to October, the Half Marathon seems to be
staring at me from the end of a long dark tunnel and the training runs are
starting to get long. Never mind getting longer, they skipped that part and
went all the way to LONG. Ok, to be fair they aren't as long as the Half, but
they are longer than I've ever gone before. Now yesterday was the end of week
for and the run distance has moved up to 5 miles (which is 500m longer then
both run portions of the Duathlon combined). With a visit to my Sister, Nav and
little Ms. Willow, the run got pushed out until this morning.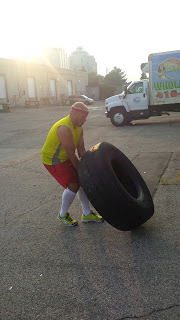 With the impending weather when I woke up, it was back to
the treadmill. Somehow I messed up my
pacing so I will break the run down into 3 sections for you, but rest assured
section 2 SUCKED (I ended up having to walk 3 times). During the first 5K I set
a new personal best, finishing it in 30m26s (beat the old time by 2 minutes).
Section 2 was 2.6K and it took 19m03 and this is where I couldn't maintain the
pace. I finished up with a cooldown section that took me to the 8.2K mark. Total
time was 54m18s with an average pace of 6m37s (even with the walking) and a
calorie count of 1,203 burned. Even my run cadence was good with an average of
77 SPM and a max of 95 SPM (which is near the goal of 100). My heart rate was pretty high with an average
of 142 BPM and a max of 164 BPM.
Warm-up 'A'
500m Row
3 minute Ladder of
Wallball (@14lbs)
Push-ups
Lunges
Today was a really busy work day and after the long run
(with Hatch in tonight's program), I just wasn't feeling great. My legs were
soupy and my hips are tired and weak. Running is building new muscles and so is
the new Squat program, but the downside is that I am not recovering quickly.
Tonight we started with the Back Squat @70% of our 1RM. I started on the plates
and out of the gate I had trouble. With 225lbs on my back, I could not get all
the way into the hole and when I did, I felt too wide and I didn't feel like I could
push the weight. It was very
discouraging. Even when I moved off the plates I felt out of balance. Front
rack was no better as the bar sitting on my left shoulder was very painful.
What a garbage day of lifting.
WOD
4 Rounds for Time, 15 minute CAP
40 DUs
10 Burpees
20 OH Lunges (@65lbs)
And the day gets worse… DUs. I struggled, but I did my best
to get through this WOD, but it got a lot more difficult when my Rope exploded.
Thanks to Riley for finding the missing piece after the WOD. I managed to finish 2 full rounds and got 7
DUs in before I got CAP'd out. Unfortunately today there was no way to keep
going.
Cash-out
7x20m Tire Drags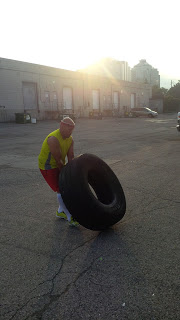 This is a new Cash-out and it was new and I was excited to
try it (something has to go right today). With all the strain on the legs today
it was a good burn and I could feel the gooey legs after each pull. The only
drawback was that the tires were filthy. Not a big issue, but a pain.
BWOD
3×20 GHD Back Extensions (@25lbs)
5 Deep Rig Squats
Tavia Squat Complex* (First 5 Reps on the Plates)
400m Run
Hip Stretches
Quad Rollout
*I started the Squat Complex and I felt ok in the first 5
(Complex is 5,5,4,4,3,3,2,2,1,1), but whan I moved off the plates I could not
get into a good position. I could have half assed it, but I knew I had to stop
here. There is no point practicing with bad form. I will use Recovery tonight
(as always) and Cocoon and hope they get me back on my feet for Jeff's birthday
WOD tomorrow.
Beez