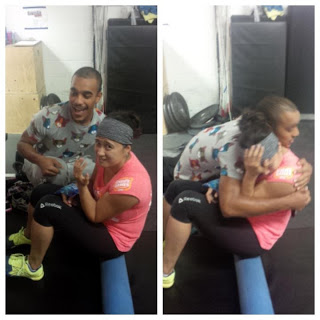 Hey @AkariBatman, I'm not sure @SarahBassels is a fan of the Cat Motif…
After a very entertaining weekend (thanks @Keilshammer and @
Wardy), I am nose back to the grindstone… So to speak. Now there wasn't a lot
of healthy eating and there may have been some drinking (but shockingly a lot
less than in previous years), but I am slowly getting focused again. I just
signed up for the
WholeLife Challenge
, an 8-week clean living game (involving
thousands of people) and I'm hoping that it will help me get back on track.
That (along with run training) should get me ready for the Half Marathon. No we
did get a 50K ride in and see 54.40, so overall, eating aside it was a great
time.
Warm-up 'A'
400m Run
2 Rounds of
5 Beat Swings
10 Push-ups
15 Squats
20 DUs
Today looks like a super duper burner. First up we had 20 minutes to find a 1RM
Front Squat. I was working with @DefconRX and he was leading the plate train
tonight. On the first attempt he almost jumped for joy! I got below parallel
with @95lbs on the bar, not a lot of weight to be sure, but with all the work
on my hips I got 2 REAL REPS! As we
went up in weight though I started having more and more problems with the
weight. It wasn't the pounds, but it was the bar and where it was sitting on my
shoulder. I could not get my elbows up (even with the bar sitting in my throat)
and there wasn't a comfortable position for lifting. The increased weight also caused some stance
issues (too wide) and I topped out at 225lbs. Not a PR, but an ok day at the
office.
WOD
9 minute AMRAP
3 Squat Clean Thrusters (@85lbs)
20 DUs
Rest 2 minutes
3 Rounds for Time (6 minute CAP)
10 Walking Lunges (@85lbs)
10 Hang Power Snatch
10 Burpee Pull-ups
That was hot and spicy. I managed to finish 7 rounds plus 2
Squat Cleans in the first AMRAP with 3 rounds with no Thrusters and 4 rounds
with. I wasn't feeling awesome pushing overhead, but I was feeling awful about
not doing the whole movement so I pushed through some crispiness. The really
cool part was the DUs. I've almost got them. I ran into so lazy reps (wrists
weren't moving fast enough), but I am getting closer. WOOHOO! Jilliann was
right about part 1, it was a long assed 9 minutes. We moved on to part 2 and I tried
to do the Lunges as prescribed (OH Barbell position), but it was super unstable
for me and causing some torqueing. Moved to the Front Rack to complete the WOD
and had better success. The Burpee Pull-ups were not pretty though. No bands,
just best effort and there was lots of pulling. I finished 1 full round plus 3
Burpee Pull-ups @85lbs.
Cash-out
10x100m Sprint
Big pat on the back to @SarahBassels, @CADPRO00, Louisa and
Carling for joining me in Sprint Hell. Actually, it wasn't that bad and after
we had all grumbled a bit we got it finished. The sprinting actually felt
really good, but my hips did complain for the first few. There wasn't a B-WOD
tonight because the box was packed, but we did mobility and rolled out.
Beez
Today's Word: Stride