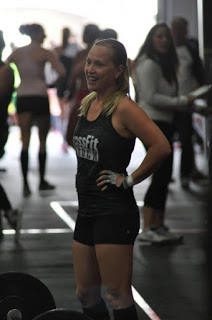 Sometimes you just need to say no. Today should have been
that day, but it was @Wardy_'s birthday and CrossFit Class number ONE HUNDRED!
Notice how that was spelled out? Exciting and classy at the same time, don't
you agree? Less than 6 months, 100 WODs, 50lbs and 20% body fat. I am excited and motivated and still nursing
this stupid shoulder. Last night was a tough one (sleep wise) and if it hadn't
been a birthday I probably would (and maybe should) have cancelled and rested
up. What's done is done though.
Warm-up 'A'
3 Rounds of
50m Sprints
10 Squats
10 Lunges
10 Push-ups
I performed parts of Warm-up 'B' but I used PVC and was
extremely limited. As sad as it sounds, I couldn't even do a pass through
without considerable discomfort. Oh well, no overhead work tonight and just do
your best. We started off with Power Clean and Push Jerks with 12 minutes on
the clock to find a 1 RM. Well, I guess doing 1 out of 2 is alright. After
missing out on a PR last night in the Push Press, I managed to Power Clean
200lbs! PR for me!
WOD (25 minute CAP)
3 Rounds of
30 Burpees
30 Hang Power Cleans (@135lbs)
30 Squats
30 Wallball (@10lbs)
30 Sit-ups
Even at 100% this WOD would have been super difficult to
finish, but everyone in the #530Crew did their best to get there. I modified
the Back Squats to Air Squats and went with a really light Wallball, but I still
struggled. Thanks to @SarahBassels for
keeping an eye on me to make sure I wasn't pushing too hard or doing more
damage. I finished 1 full round plus 15 Hang Power Cleans. The only issue is when you try
to protect (say a damaged shoulder), it throws the rest of your body of kilter.
I'm feeling it now that I've started to cool down. I will rest up this weekend
(ish) and keep my activity limited to running and cycling.
Just to finish up tonight, I want to reflect on the last 100
WODs. I found @CrossFitCanuck almost by
accident and it has become 1 of the most important things in my life. I have
met an amazing group of people who have become like family and every day encourage
and push each other to be better than they were yesterday. Even at 80% and
nursing a sore wing, there is no where I would rather be then in the box
sweating. I can honestly say that I never felt like this at GoodLife (or any
other gym I've ever been to). The best
part is that I'm not even close to being done yet and these amazing people will
help me get there.
OK, gushing done.
Beez