Ontario Provincial Police that is…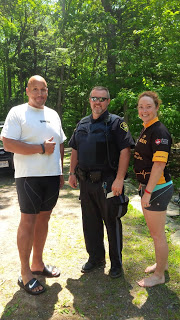 Yeah, you know me! So this is Saturday's much delayed post
and let me tell you, it was an all-out interesting and exhausting kind of
day. Best part? Besides Sue Ann and
Tavia celebrating a special day? How about me not getting arrested (or at the
very least a ticket). This weekend has long been marked in the calendar and
there was an understanding that it would probably not be a healthy one. @Keilshammer
and @Wardy_ were hosting a group that included @hoodieruns, @Ed_markwards,
@C_R_Morton, @Leslie_Morton at the cottage for a birthday weekend extravaganza.
Good times were had by all.
Saturday morning (surprisingly), we all got suited up and
headed to the departure point in Torrance for a ride through the Barrens. It
was a 'first' through the Barrens for most of the crew and I'm pretty sure we
all had a good time. It wasn't too hot
out and the pace wasn't too hard (even though the group got strung out a couple
of times). We paused at the 20KM turnaround and then headed for another 5KM to
stretch the total to 50KM.
For the most part I felt great today, but I did struggle a
bit on the hills on the way back. That's
not to say I was huffing or puffing, but my legs were just out of gas. I still had a good pace and maybe could have
stretched the ride to 60KM. The 50KM was
finished in 1h55m and I recorded an average speed of 26.6KPH (best average ever
was 27.6KPH last year), maxing out at 56.5KPH. Average heart rate of 136BPM,
maxing out at 161BPM. I'm not sure how accurate the Garmin is for calories
burned, but it says I burned off 3,888 of them, WooHoo!
Now I guess you are wondering what the O.P.P. have to do
with this story (and no, no one was arrested). Well since I've lost weight (and
a big chunk of inches), I found myself able to start wearing cycling jerseys. I
wore one for the first time during the Ride for Heart and time number 2 was
today. The back pockets are handy for carrying your phone, gels and snacks when
you go on long rides. Now as I rolled in to the Torrance Community Centre, my
phone started ringing. I missed the
first call and got it when they called back. Imagine my surprise when it was
the O.P.P. Dispatch on the other end of the connection, calling to find out if I
was in trouble because I had called 911. CRAP! Apparently a Blackberry Z10 can
call for help from your pocket. I
assured the Dispatcher that I was fine and that the call was an accident, but
an officer has to visually check to make sure you are ok. He was a good sport (I apologized profusely)
and posed for a picture with us before heading back out.
My shoulder is still not feeling awesome and Mother Nature
decided to rain on my Sunday Run plan so I will be off until Thursday. I'm
going to attempt to Spin or Run tonight, but it's 50/50 right now.
Beez