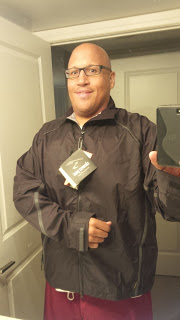 I got a new cycling rain jacket!! Exciting, but 1 week too
late for the Ride for Heart and the downpour we had to ride through. I will be
ready for the next time though and the part that still blows my mind is that
the XXL (which is my default) was too big!! Awesome in every sense of the word,
but buying XL will take some getting used too. With the subway down for repairs
I hit up Cyclepath (after the purchase at MEC) and had some great customer
service replacing a light I bought last year. Finished up by walking from
Davisville to Yonge & Sheppard to see Star Trek. It was FAR (and uphill).
Warm-up 'A'
800m Row
10 Inch Worms
10 Squats
10 Kettlebell Clean and Press
20 Lunges
Warm-up 'B+
3 Jump Shrugs
3 High Pulls
3 Muscle Snatch
3 Drop Snatch
3 OHS
3 Sots Press
5 Duck Walk (Forward)
5 Duck Walk (Backward)
3 Bounces
3 Arc Angels
The rule @CrossFitCanuck is Squat Clean everything. Today, I
did not have Squat Cleans in me. It would be a Power Clean party for all the
attempts at a 1 RM in the Clean & Jerk. I started loading up and after
getting gently reminded to keep my chest up, I started figuring it out
(@missade3 even commented on how high I got the bar up on the shrug). With no
time left I hit a PR @175lbs.
Spicy Cindy or Half a Murph (25 minute CAP)
**1 Round of Cindy**
5 Pull-ups (Purple Band)
10 Push-ups
15 Squats
1 Clean & Jerk (@135lbs)
1 Round Cindy
2 Clean & Jerk
1 Round Cindy
3 Clean & Jerk
1 Round Cindy
4 Clean & Jerk
…
1 Round Cindy
10 Clean & Jerk
Spicy is a word for this WOD. Spicy and awesome. I finished 7 full rounds
and was 10 Push-ups into round 8. RX for
the weights was 155lbs, but I came down in weight on the Clean & Jerk so
that I could focus on the Purple Band in the Pull-ups. I think I will be using
it from now on so that I'm challenging my body. Cardio wise I think I'm in the
best shape of my life, but I've got some strengthening and flexibility that
need to be better.
Cash-out
100 DUs
2x ME Kettlebell Swings (@50lbs)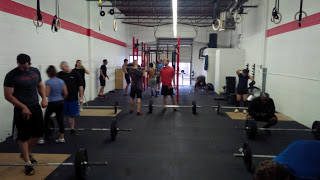 I'm starting to get DUs, as long as I don't think about
them. I hit the first few and then the
wheels came off and the rest took forever.
Too be honest I was bummed that Mother Nature turned on the sprinklers
today because originally we were going to be doing Tire Flips and
Sledgehammers. It was a packed house tonight so no B-WOD, but Tavia still
managed to find time for some Deep Assisted Squats. They felt really good (and I
was almost at parallel in the WOD) and are getting easier every time we do
them.
Beez
… Also a shout to @missade3 who I missed in my post WOD
tweets (I must be getting old or something) so you get a blog shout!
#WODmonster #PRmachine