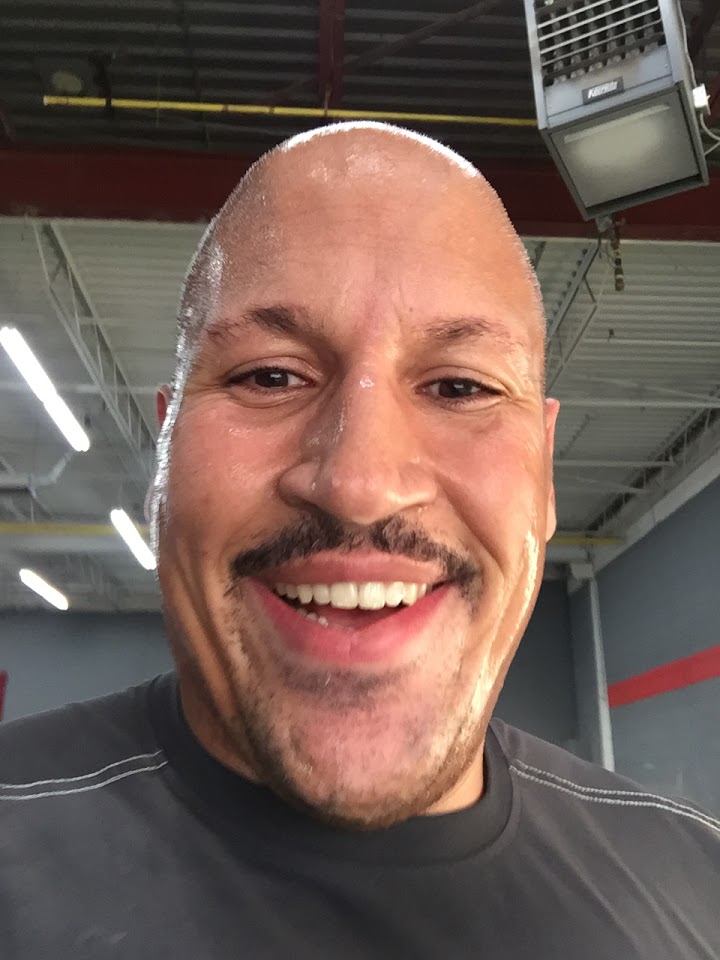 Post WOD HAPPY Face
Well it has taken a while… Since the surgery to fix my knee and its impact on my CrossFit life, there has been a profound change (not for the better). They went in with all their fancy tools to fix what I thought was a meniscus tear that was preventing me from squatting, lunging and even rowing. A CrossFit life becomes very tough when you can't participate in anything that involves a knee bend. Deadlifts? Not from the floor. Box Jumps? Definitely not. Burpees? Well that's a hard no. While they were rooting around in there they found that the state of my knee was terrible (and for some reason missed on the MRI??). The work they did was supposed to fix things. It really hasn't Whoa… This is a heavy toned post. Stay with it, it gets better. The ONE IMPORTANT thing that they did was fix it to the point that I could walk down the aisle to marry @SavannahJessie.
Since then, it's been a journey to see what I can do. Rowing? Sort of. Can't load the knee fully at the bottom of the pull. Biking? Kinda. Same thing, pain when a load is applied in the bent position. Both of those things aren't huge. I still haven't squatted and probably won't anymore (sigh). Still there are lots of things that I can do and strangely Running is one of them. Running? Yeah, go figure… Still the beauty of CrossFit is the ability to modify for everyone and today marks my first serious WOD back in, well let's just say a while and leave it at that…
Bernie's Birthday WOD
41 Calorie Row
Then…
3 Rounds
14 Hang Power Cleans (135lbs)
14 Shoulder to Overhead (135lbs)
14 HR Push-ups
Then…
1 Mile Run
Amazing right?!??!! I designed this one myself and it signifies a whole lot of things. First they are all movements that I can go all out in (YEAH!!!). Second the Row signifies my age. The 3 rounds of 14 reps is equal to how many miles I will be tackling in Chicago in the fall (42) and the Run, well, that's another marathon reference.
I made it in at 630a to WOD with some crazy folks (thank you to you all) and we got down to it. So much fun!!! I miss how much the comradery of shared misery can make you push through those walls. All I can say is thanks to @CanuckCoach who set the weights at 135/95lbs, because I had toyed with 155lbs (and 185lbs). After that first rep I was glad it wasn't any heavier. Knock off the reps in 5's and 6's and get out on the run. I had a lead off the Rower, but while I was out the door behind @ajhughes77 (my Endurance Coach), I only managed to keep eyes on him for about 20 seconds. Still, a 10m36s mile after all that work… WOOHOO!  Finished in 26m28s. Thanks to everyone who did and is doing this one today!
Baz resting after the run…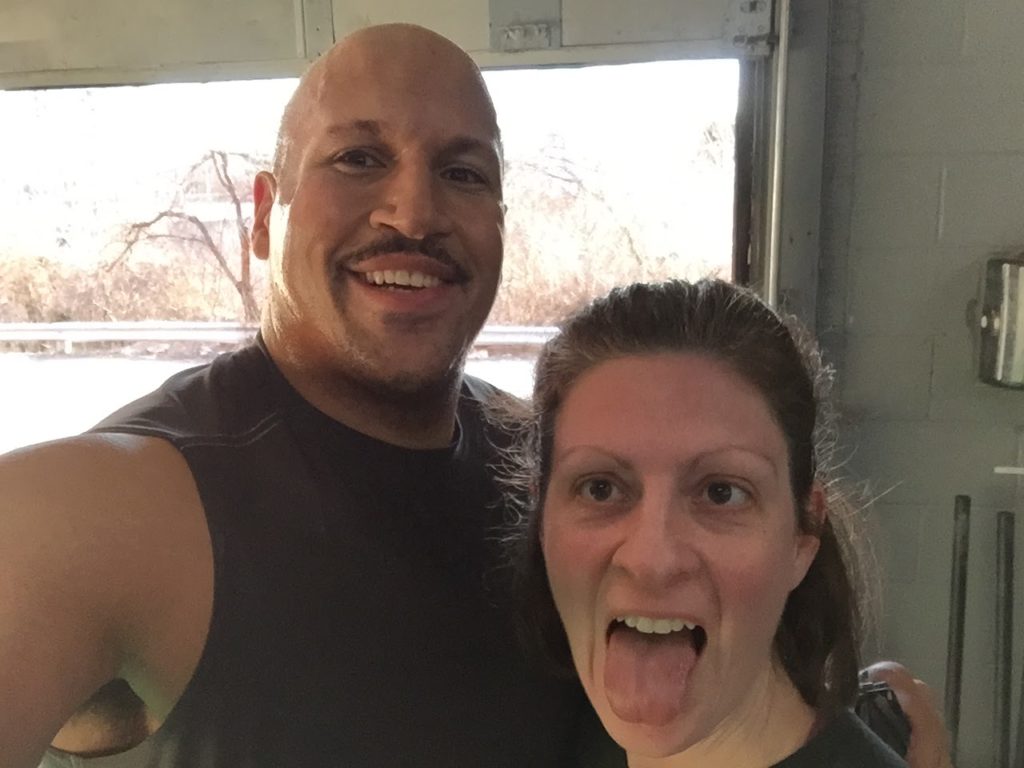 Even OG Iron Anne came to play!
Since the last post I should say that I haven't been idle. @SavannahJessie has been going to Orange Theory Fitness on days that I don't coach in the morning and she has been instrumental (thanks Lady!) with helping me get two feet on the floor (the hardest part of waking up). Thursday, after grumbling a bit I got out on the roads and nailed down a 10.08Km run in 1h12m55s. It was soooo hard (not the running part, but the stupid hill profile I chose). I managed a 7m14s/KM pace, but my cadence needs to be higher (162SPM).
How's your April Challenge going? I've been hearing that folks seem to be intimidated by the Push-ups. 'I don't like them'. Well that is precisely why you should do them. The only way to get better is to do the work. You still have time, hit the floor and get to it. I'm currently at 552/1250 with a full day ahead of me…
Have a Hoppy Easter (the typo is on purpose)…
Beez