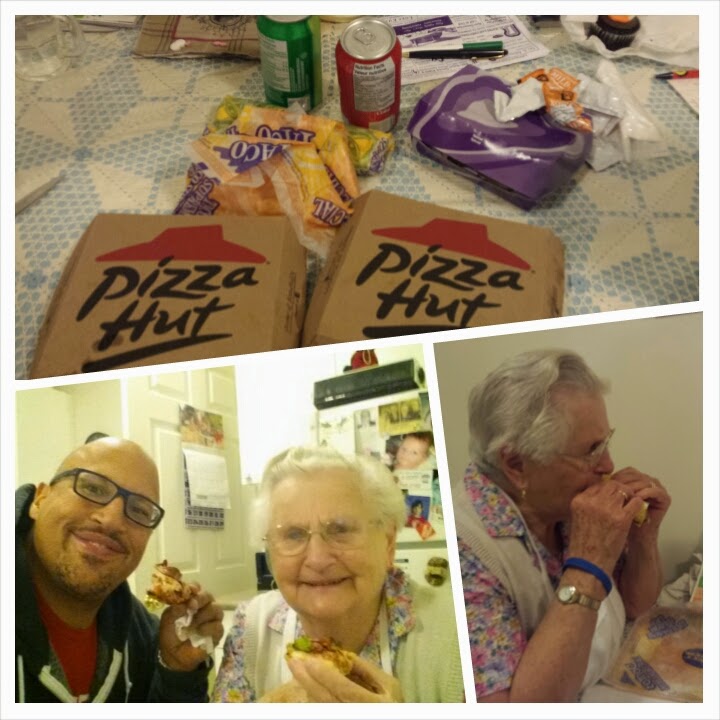 OMA!!!
Monday (Nov 3) – Well it was a busy but
relaxing weekend. Does that even make sense? Well let me start with the
relaxing then we can get into the work. After the Friday meltdown, it was off
to Kitchener for the weekend for me to spend some time with Momma and Poppa C,
take the roof rack off and get the winter kicks on the Red Rocket. The most
important stop though was to visit Oma. Back when Opa was still with us, I used
to take them to Taco Bell as a treat (they love the hard tacos). I was coming
to visit with the Bell until I got word that Oma really wanted pizza, but was
too shy to ask. What do you get in Beez's World? Both! That's the face of an
Oma that got exactly what she wanted! Yay!
Now to work. The goal this week was to hit
the Row early on Monday and Wednesday and then complete Day 3 on Saturday. I'm
still not sure how I got to @CrossFitCanuck this morning, but I am fairly
certain that my car was involved. The folks who WOD that early in the morning
are a unique group, but it certainly isn't my cup of tea. Thanks for tolerating
me making noise during your session.
BROW
583m Row
10/10/10/10/10
5x100m Row
8 minute Row (2,263m)
4 minute Rest
8 minute Row (2,162m)
The morning ended up being pretty good
because I ended up with a new PR in the 2,000m, hitting 7m00s in the first
round. The second round was slower, but
still a good rip. Headed back home, got work wear and hit the road again. I'm
not sure this is my favorite way to spend my 6am, but it wasn't too shabby
overall. I'm back at @CrossFitCanuck later in the day for another shadowing
session with Tavia and then a debrief.
See you Wednesday,
Beez