It's 10 degrees on the happy side of par (0 for those
non-golfers), the back door is open at @CrossFitCanuck and there looks to be
some heavy lifting going down tonight. Now whatever I was fighting off this
week seems to be fighting back, but the soreness from Saturday has pretty much
left. Pretty much. I am looking forward to getting a 1RM Front Squat,
especially since I will be shooting for no plates and full depth. It's almost
been a year since I've gone for really heavy.
Warm-up
400m Run (See the Video)
2 Rounds of
10 Beat Swings
10 Power Snatch (PVC)
10 Push-ups
10 Squats
The #530Crew was pretty small tonight, but it was PR City!
We started off with 20 minute to find a 1RM Front Squat. After checking MyWOD,
my 1RM was 245lbs (hit on March 27 2013). Now I'm fairly confident that I did
not get totally to parallel so my goal today was to hit a legit Front Squat.
With @zlreyes coaching and Laurice, @Keilshammer, @DefconRX and JoJo lifting
everybody went nuts. With time running out I hit 255lbs at full depth with good
form. Mission Accomplished! We followed this up with a 10 minute EMOM, with 6
HSPU (Box) on the odd minutes and 6 Strict Pull-ups (Purple Band) on the even
ones.
WOD (15 minute CAP)
3 Rounds of
10 Power Cleans (@155lbs)
20 Push-ups
400m Run
Lots of news today. Apparently the new RX at the box is no
longer 135lbs, it's 155lbs. I thought it was a late April Fool's joke, but if
we are going to get stronger, we have to lift heavy. I was going to attempt
Power Snatches, but @zlreyes recommended I do Power Cleans instead to protect
the shoulder. All the while chasing @Keilshammer down I finished in 13m14s. It
was brisk in the shade, but it was awesome to be outside again.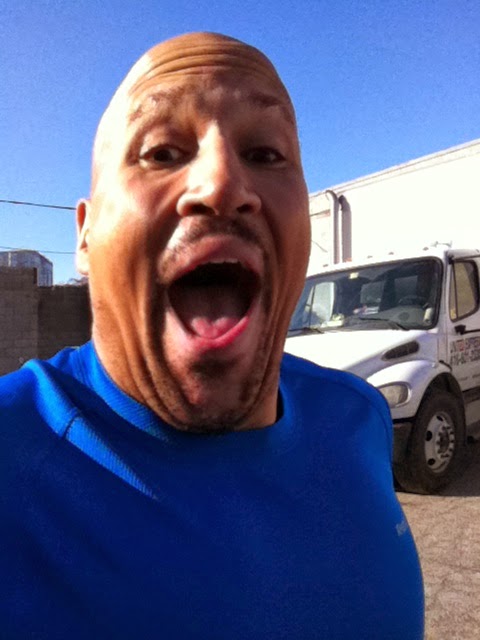 BWOD
50 GHD Sit-ups
50 GHD Back Extensions
Shoulder Mobility (Band)
5 Pull-ups
Hip Stretches
Ankle Mobility (Plate)
Knee to Wall
Glute Stretches
5 Candlesticks
Welcome back BWOD! Training for next year and a new goal
from Jillian to get into the Indoor Rowing Championships means no more
slacking. It will not be easy, but nothing worth doing ever is. Cardio is going
to be key so my running will also be ramping up as we work through this Texas
Strength Cycle.
See you tomorrow,
Beez