First thanks to @zlreyes who was trying to find a spot for
his Turkish Get-ups in a minefield of kettlebells for providing me with a title
for tonight's entry. Where to begin? Well I guess confession is good for the
soul (or so I'm told), I was not nice to my body this weekend, but I wasn't 'Old
Beez' either. On a related note, if you are at the Overdraught Pub on Front
Street, you have to try the Irish Poutine (you will thank me). Moving on to the
body… The 2 full days off did wonders. I
was struggling at the end of last week and I was probably on the road to a
mechanical breakdown.
Warm-up 'A'
400m Run
3 Rounds of
10 Beat Swings
10 Push-ups
Warm-up 'B+'(3 Times)
3 Jump Shrugs
3 High Pulls
3 Muscle Snatch
3 Drop Snatch
3 OHS
3 Sots Press
5 Duck Walk (Forward)
5 Duck Walk (Backward)
3 Bounces *NEW
As soon as I tried my
first beat swing my body started protesting.
The scary part is that it didn't complain on the run. I slowed them down
and got them done (and did extra on PVC work). We worked on the Snatch again
today for 5 rounds of 2 reps. I loaded
to 75lbs and worked hard on technique (which is still not working in my head…
ARRRRGGGHHH!). We then loaded up to work
on our first pull and I was working at 165lbs. Next up, a postponed meeting
with one of the Ladies.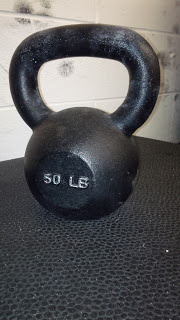 Helen
3 Rounds for Time
400m Run
21 Kettlebell Swings
(@50lbs)
12 Pull-ups (Blue Band)
Now Tavia was looking for
sub 10 minute times, but for me I just wanted to make sure I finished all the
runs strong (no walking). On 2 of the 3 rounds I went unbroken on the swings
(yay!) which really helped, but my Achilles was the Pull-ups (again). I did find a small ray of sunshine though,
with the rest and all the work we've been doing I think I will be moving to the
green band soon (Tavia, that was soon… NOT Tuesday). I finished in 12m36s and
to be honest I was ok with that time (for now).
With an average of 2 minutes per run I think I might be able to shave
some time as my running improves.

Cash-out
5 Turkish Get-ups (Per
Arm)
3x ME Knees to Elbows

Well I clearly read the
Cash-out wrong. Crap. It should have been 3×5 (Per Arm) Get-ups. It's probably
a good thing though. I started with the 25lb Kettlebell and for some reason my
left hip exploded. Seriously? What am I 50 now? It is really tight and it
forced me to modify the homework this evening.
B-WOD
3×20 GHD Back Extensions
Shoulder Stretches (Band)
Hip Extensions
Back Rollout

Now this week's schedule
is going to be off because of a Ride for Heart event on Wednesday, so the plan
is to Spin or Run tomorrow morning and then hitup @CrossFitCanuck tomorrow
night. Spin Wednesday and regular WOD on
Thursday. From there it's anybody's guess.

Beez