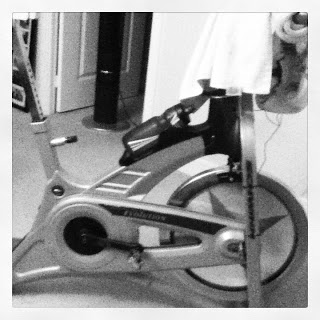 Ok, clarification from yesterday. I meant my hip made me feel old like a
regular 50 year old. Not one that does
CrossFit or races Triathlons. Clearly
breaking the 50 barrier makes you more sensitive (just kidding). Today was one
of those days where I could roll over and go back to bed, but it was like I could
hear Jillian screaming "Get up and get on the bike". Tough, but fair.
Thank goodness there was an episode of Castle on the PVR,
because with the sore hip and the low motivation it would have been tough to
get moving. I had to dial back the tension because there was a lot of
discomfort in the left hip. I did manage to knock down 12.5KM in 25m11s. Not bad, clearly short of Ride for Heart
distance, but it was good to get going and try and loosen up (didn't work
BTW). I averaged 84RPM and had an
average heart rate of 118BPM.
Short this morning because @CrossFitCanuck has got a serious
schedule for us tonight.
Beez