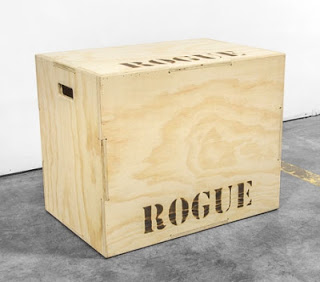 10 minutes. 600 seconds. Not a lot of time when you think
about it, but an eternity when you are going all out. Tonight I completed part 2 of the 2013
CrossFit Open, otherwise known as 13.2. I don't know how smart I was being
trying this WOD after last night's workout, but Tavia offered to judge my
effort (in official form) and I didn't want to disappoint. This was more
difficult then 13.1, but thanks to the advice from @Wardy_ (keep moving, don't
stop) I was able to give it my best shot.
Warm-up
750m Row
10 Kettlebell Swings (@25lbs)
10 Squats
10 Push-ups
10 Squats
I had to work quickly to try and warm-up as I would be
completing this in between classes. It was a bit different than normal because
of the duration of the WOD and the types of activities that I would be doing.
Warm-up #2
Deadlifts (@45lbs)
Push Presses (@45lbs)
10 Candlestick Rows
10 Calf Raises
10 Calf Jumps
10 Front and Backs
10 Jump Ups (3x45lb Plates)
10 Step Ups (24" Box)
Loose? Check. Bar Loaded? Yup. Box setup? Sure. Ready? Well as ready as I will
ever be. Now I'm just stalling. Tavia
gets the clock ready and we're off.
13.2 (10 minute CAP)
5 Push Presses (@115lbs)
10 Deadlifts (@115lbs)
15 Box Jumps (24" Box)
It's funny how when you are doing something so difficult,
you tune out everything around you. The Presses and the Deadlifts I found to be
'relatively' easy, but it was the Box Jumps that killed me. I had no idea where
I was with regards to time or rounds, I was just an automaton. Press. Lift.
Step-up. Repeat. All I could hear during
the second half of the WOD was Tavia and @DefconRX coaching me. "Pick up the
bar". "Don't stop moving". It was really helpful to be able to shut of my brain
(especially the part that was screaming for oxygen and telling me to stop) and
just focus on getting in the reps.
Just one more rep!!!!
When the clock struck 0:00, I had never been so happy to hear
that damn beeping in my whole life. I hit the floor and couldn't have moved
even if I had wanted too. I got a celebratory body slam from Coach Jillian and
high fives from the Canucks who stuck around to watch (Thanks Guys!). Total rep
count, 171 (I was sure it was in the low 100's). A very pleasant surprise!
Cash-out
1200m Row
3 Candlesticks
Stretches
Congrats to Robin, @Wardy and @Keilshammer for completing
this doozy today and Good Luck to all the Canucks that will be rocking it tomorrow.
Beez