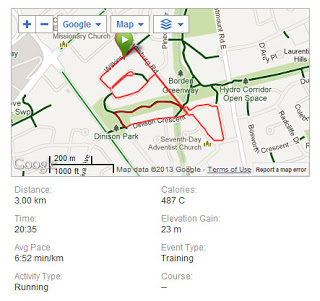 You may not believe me when I say this, but Easter Sunday
morning I went for a run. Gasp! Please
pick yourself up off the floor; I realize that it is not a Duathlon Race Day or
one of Tavia's warm-ups. I willingly woke up early, got geared up and headed
out into the brisk 2 degrees Celsius morning to run. It's almost like I'm
taking the half-marathon seriously. Tuesday is D Day, signup day (Jess I'm
looking at you).
Today's run was 3KM and it was ALL running. I know, you are
giggling thinking about the 21KM I will be running in 6 months, but you have to
walk before you can run. That is the longest single distance at a run I have
ever completed. I finished in 20m35s (including a sprint 200m to finish) with
an average pace of 6m52s/KM. Right out of the gate I'm below 7 minutes and have
a good idea what I will need to do.
Tomorrow is CrossFit and maybe a spin, but we'll have to
see. I'm going to attempt 13.4 after my
regular class because it was a little bit hectic on Friday.
Beez