Well it's OFFICIAL. Today I signed up for the Toronto
Waterfront Half-Marathon. I'm feeling a little bit faint here…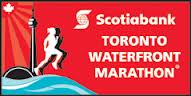 Well the easy part is done and with 28 weeks to go it looks
like the training is about to serious. Well maybe not serious, but it's about
to get more consistent and more regular. Intensity shouldn't be a problem as
Jillian, er, I mean Tavia hasn't finished the reshaping of your Friendly
Neighborhood Blogger. Oh and there is a 75KM ride (Ride for Heart) coming up in
a little less than 60 days…
It does seem that 2013 will be the year of Beez. Not in a cocky and arrogant way, but in a
reshaping and redefining way. In honor
of that I managed to get on the bike tonight.
The goal was for a morning ride, but with the double WOD yesterday my
bed was not letting go, but I found the saddle after work. It was a 25 minute ride covering a total of
12.5KMs. I averaged 86 RPM (just short of the 90), but it was a decent pace and
tension. My average heart rate was
137BPM and I didn't have a grasp on what my max was.
Hopefully I can keep up a decent pace until October,
Beez