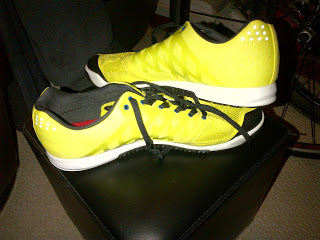 First off let me say THANK YOU to everyone who came out to
celebrate my birthday Saturday night (and to those who couldn't make it and
wished me Happy Birthday too), I hope you had as much fun as I did. The venue
was pretty good, the drinks were tasty and the company was best of all. Needless to say the paleo eating wasn't 100%
on track, but considering the damage that could have been done, I am very happy
with how everything turned out. I did
have some gluten and a bit of cheese, but nothing that can be called crazy
overindulgence. There was also a super unbelievable gift that I received from
@zlreyes, @paulperena and @jonokim11.
These boys bought yours truly a brand spanking new pair of Nano 2.0's. Mucho Appreciated Boys!
There was also a severe lack of sleep and I have decided
that while I can function on 4hrs sleep, I would prefer a solid 7. I did make
it back to @CrossFitCanuck to cheer on those crazy folks taking on 13.3
again. Between yelling myself horse and
the effort that these competitor threw down, I was sooooo happy that I was
there. Well done Canucks!
Warm-up
400m Run
1 minute Push Press (@45lb)
200m Run
1 minute Push-ups
400m Run
Now apparently @DefconRX didn't know my rule about no
running until May or he was simply trying to get my new kicks dirty (just
getting Coach D), but running was on today's menu. True story, I DID NOT HATE
IT. I'm not sure how that has happened
since it has been a long time since I've done it, but it was a shock to me too.
I'm not saying I want to do a whole lot of it right now, but I think it's
something I could learn to like.
First up for us tonight was a 5 minute EMOM of Push Jerks
@80% of our Clean & Jerk 1 rep max.
For me I would be working at 135lbs, and it was heavy. It was strange, but I felt like I was loading
on my wrists, so I will have to get my form looked at (although I did get under
the bar). After the 5 minutes we went
straight into a 2 minute AMRAP and I finished 8 more reps in that time.
Buy-in
3 Rounds of 2 minutes
300m Row
Push-ups with Remaining Time
WOD (Which I will dub as Meanie)
50 Kettlebell Swings (@50lbs)
25 Pull-ups (Blue Band)
40 Kettlebell Snatch (@35lbs)
20 Knees to Elbows
30 Kettlebell Swings
15 Pull-ups
20 Kettlebell Snatch
10 Knees to Elbows
10 Kettlebell Swings
5 Pull-ups
Cash-out
3 Rounds of 2 minutes
300m Row
Push-ups with Remaining Time

OMG! That was tough. Originally @DefconRX had a 15 minute
CAP on the WOD, but I wanted to finish it (I may have still had some booze
impairing my thought process) and the CAP was removed for everyone. For the
Buy-in, I managed to get 48 Push-ups in (that's how we were scoring, number of
PUs). Meanie took me 18m41s and it was
hard (I've said that a couple of times).
I had trouble getting air and for some reason I just wasn't feeling
awesome. For the Cash-out I managed 32 reps (same scoring as the Buy-in).
I'm getting to the end of my challenge and I have been
feeling so good that I will be continuing with a modified version for the next
little while. Jillian has made it clear that just breaking the barrier or getting
to 275lbs won't be where we will be stopping this ride (eek!). I'm not sure where we'll end up, but I know
where I came from and I'm excited where we end up.
Beez