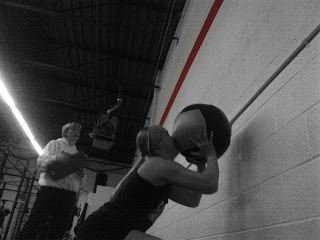 I swear I will be waking up in the middle of the night
having heard those most EVIL of CrossFit terms in the middle of a nightmare… NO
REP. The cold sweat is already starting and I'm afraid to close my eyes because
of the GAZILLION No Reps I heard during 13.3. Karen it a straight up b*tch and
she wasn't a happy camper with me either.
I was the first one into the pool for this week's WOD and following hot
on my heels was @Wardy_.
Warm-up
1000m Row (Easy)
5 minute EMOM
2x 1 1/4 Front Squat (@95lbs)
5 minute EMOM
2 Shoulder Press (@65lbs)
This should make
hoodieruns.com
happy. I'm adding to Crispy and introducing the
Crispiness Scale. It runs from 0 (Mildly
Crunchy) all the way to 10 (Totally Deep Fried). I was rolling in at about a 10. My body wasn't
loving the concept of 3 back to back days, but Sue Ann was kind enough to judge
me attempt so it was time to buckle up.
OPEN WOD 13.3
150 Wallball (@20lbs)
90 Double Unders
30 Muscle Ups
Ok, in all honesty my only goal in this WOD was to hit 1 DU.
I still have a very tough time getting all the way down in a squat, but I did
the best I could. SA was probably taking it very easy on me with regards to my
squat depth, but Karen (150 Wallball) was BRUTAL. I went in thinking I could
string together groups of 25, but right out of the gate I ran into problems.
The first ball nearly went over my head and the third one hit me in the head.
It was like I had never done Wallball before. I finished Karen in 11m22s, which
for me is a new PR. 38s to finish at least 1 DU. My whole goal was to jump as
high as possible and send the rope around in the hopes of landing 1.
I got 4. Total score for 13.3 was 154.
Cash-out
2000m Row (Easy)
I wasn't really happy about my time, but I just didn't have
anything in the tank. Congrats to
hoodieruns.com
and @Wardy_ for their scores
on 13.3 and good luck to all the Canucks that will be kicking the crap out of
this WOD tomorrow at the box.
Beez