It has been a pretty intense couple of hours… Actually make
it the last couple of weeks. First off,
this last stretch of eating (no sugar) is really tough and I'm not sure that it
was something that I could maintain over the long haul. Although, there have been CHOCOLATE CHIP
COOKIES kicking around the office for the last couple of days (big, juicy,
delicious ones) and every time I look at them (and want one) I hear my personal
Jillian (Tavia) saying "You DON'T NEED the cookie". I have managed to avoid
eating those little delicious bastards, but I'm not sure how long my resolve
will last.
Warm-up
4 Shuttle Lengths
2 Rounds of
5 Push-ups
10 Kettlebell Swings (@25lbs)
15 Ball Slams (@10lbs)
My back was feeling better (for about 10 minutes this
morning), but as the day went on, it hurt more and more. Tavia and I are both
of the mind that my body is fighting this process. My response, "Suck it up".
We worked on Back Squats for strength today and after warming up through 85%,
90% and 95% of my 1 RM, I was working at 285lbs. The back felt ok, but on the 1
rep lifts I had trouble getting all the way to parallel. I'm still working hard
on that.
WOD
4 Rounds for Time
500m Row
14 Push-ups (Had to modify after the first Burpee)
7 Thrusters (@95lbs)
7 Knees to Elbow
After the first Burpee my back started SCREAMING! Tavia
modified them to Push-ups. This WOD was really tough… Not so much the Rows, but
everything else. I finished in 24m08s and I knew that I had been in a
fight. Thank goodness our cash-out was
mobility work because my back needed some TLC (and even after that it was
bitching). I have to be ready for tomorrow because it's going to be a GREAT
WOD! On a side note, I went to clean my mat…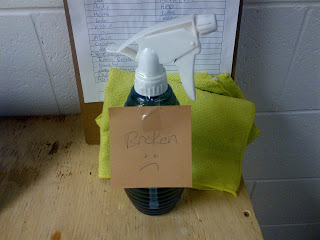 Now for the OH SNAP moments from today. While we were
warming up I went to the rig and completed not 1, but 2 PULL-UPS… No big deal
you say, they were UNASSISTED!!!!!! Crazy eh? I also was working on the Knees
to Elbows and guess what? There was a
little Beat Swing action as I was working on them!
Beez