Happy Monday! Now I'm sure you could feel the sarcasm in
that statement, or at least I hope you could.
Now I really shouldn't complain it was a pretty good day. I don't know
what's in the water since November but the days I have CrossFit are seriously
my favorite days of the week no matter what Tavia whips up for us (and no that
doesn't mean you need to make the WODs harder). Every day you find a new way to
work just a little bit harder than yesterday (it is a CRAZY rush).
Warm-up
800m Row
3 minute Ladder
Wallballs (10lb)
Pushups
Now it was a full house and an interesting line-up for
tonight strength portion. We were working on the Split Jerk off the rack and
tonight's partner (for the the first time) was none other than @Keilshammer. Now
any exercise from the front rack I still have problem getting my elbows up and
as a result my weight numbers are not as high as they might be. Now my current Jerk is 135lbs and when we
were done I had a new PR because we were working at 165lbs (not a bad days'
work, thanks for the push @Keilshammer).
Sweat RX Sevens
3 minute AMRAP
7 Thrusters (@95lbs)
7 Pull-ups (Blue Band)
1 minute Rest
3 minute AMRAP
7 Cleans (@125lbs)
7 Ring Dips (Purple Band)
1 minute Rest
3 minute AMRAP
7 Shoulder to Overhead (@125lbs)
7 Pistols (Using the Box)
I really liked the structure of this WOD. All out for 3 minutes, rest, change your
weights, go again. It did get heavy on
the last round and I wanted to go up 20lbs but I was sure I couldn't press it.
Round 1, 1 full round, 7 Thrusters and 5 Pull-ups. Round 2, 1 full round and 7
Cleans. Round 3, I finished 2 full rounds. Everyone worked really hard and
while @SarahBassels 'claims' she was swearing during the whole last round
because it was tough, I certainly didn't hear her (I certainly didn't have
enough air to cuss).
Cash-out
50 Partner Candlesticks
100 Partner Medicine Ball Sit-ups (10lbs)
My abs had just stopped hurting from last week's activities
and I wasn't sure how they would react to the cash-out. It wasn't terrible and it's nice to know that
whatever abs I do have (they are in there somewhere) are getting stronger. @CADPRO00 and I worked hard on the Medicine
Ball Sit-ups and we knocked it out of the park.
5 tough, quick sets of 20 and we were done. Done until we hit the GHD
machine for our 2×20. I didn't do any Rope work tonight, but I stretched quads
and shoulders and made sure to roll out my back.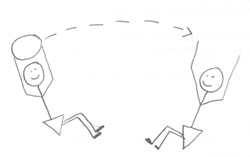 Day off Tuesday and back on Wednesday,
Beez