That's right its International Pull-up week and
@CrossFitCanuck is celebrating in style.
What you didn't have that in your calendar? It's a well known
celebration. Wait, I didn't have it in my calendar either. Following up on the
gazillion Pull-ups that we did on Monday, my lats were just starting to feel
normal again and sleeping was just starting to be awesome. Well the awesome disappeared
about 11am this morning (10am if you count when I read the WOD board) when we
were back on the bands pulling up.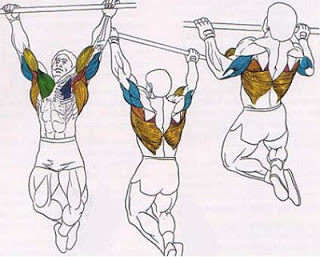 Please note they based this drawing on me. Pay close attention to my outstanding muscle tone and form.
Warm-up
100 Skips
10 Wallballs (@20lbs)
200 Skips
10 Pushups
300 Skips
10 Beat Swings
Oi! That there was a lot of skipping. This was the first
time I was using my new rope (finally sized it) and I had some trouble getting
into a rhythm early, but as I went on it got easier. I'm thinking that with a
bit more practice I will be able to get a Double Under soon.
Snatch Complex (12 minutes)
1 Power Snatch (75lbs)
1 Hang Power Snatch (@75lbs)
1 Squat Snatch (@75lbs)
3 OHS (@75lbs)
AMRAP, but a round only counted if all the movements were
done. I was still having a very tough time with the OHS portion of the complex
because the hips won't go back. DAMN!!!
I worked hard trying to get there, but I couldn't get there. I finished 7
rounds.
Buy-in
3 minute AMRAP HSPU (I was working off the box)
35 modified pushups and I was pretty gassed. This week has been a really tough one for me.
With the Open coming up, Tavia is trying to get everyone ready to compete. I'm not competing this year, but I'm training
like I was. It was close this week, but I'm
still standing (again, I almost wasn't). These Abdominal muscles that have been
hidden all these years are very unhappy the last few days.
HAMMER (thanks a bunch @Keilshammer)
5 Rounds for Time (20 minute surprise cap)
5 Power Cleans (@95lbs)
10 Front Squats (@95lbs)
5 Jerks (@95lbs)
20 Pull-ups (Strict, Using the Large Blue Band)
We were go, go, go right out of the gate and everything was
fine until the Front Squats. I'm still
having range issues on my elbows so I'm putting extra stress on my wrists. More
things to keep working on. By the time we got to the cap (we didn't know it was
capped until 4 minutes left) I had finished 2 full rounds and had nailed 5 Pull-ups.
Cash-out
3×2 Rope Progressions
My soft delicate hands are no more, calluses are now the
order of the day. We got finished and I head back for 2×20 on the GHD machine
(and watched @zlreyes and Jeff take it to the next level with a wall ball and a
Sit-up). 5 hangs from the Rope to keep working on strength for the March
attempt at the climb. Stretches for shoulder mobility and the roller for the
minefield that is my back. I finished up
with stretches for my hips and quads and then limped my way to the change room
for the trek home.
1 Day of healing and then back to work.
Beez