HAVE YOU SEEN THIS SPINNER?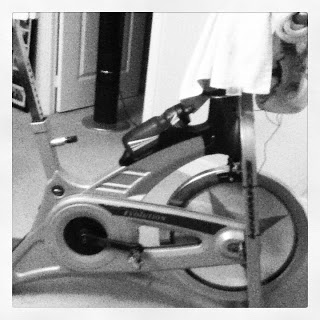 Known as Spritz. May be living somewhere in Toronto and
currently the inflictor of much pain on your friendly neighborhood blogger.
No?
Well I certainly have.
After a pretty serious epiphany week in Collingwood, I've come back full
of 'Piss and Vinegar' (not really, I'm actually like 90% water and this
banana/strawberry/blueberry recovery shake I'm having for breakfast) and ready
to break the magic 300 barrier. I know
that many of you say that it's just a number, but for me it's not only a psychological
goal, it's a personal demon (that I will vanquish). Now I've been going to
between 3 and 4 days a week @CrossFitCanuck and I love how I'm feeling, but I know
that in order to get to where I need to be, more must be given.
With gooey legs and a desire to do nothing but sleep in this
morning I climbed out of bed and put on the cycling shorts for the first time
in forever. After trying to find a reason why I should just give up and go back
to bed, I sucked it up and started pedaling. Trouble was (and it was evident in
the first 5 minutes) I did not have the legs today. They were sore and tight and complaining
about what they felt was unnecessary abuse. 2.5KM into my spin, I was ready to
throw in the towel.
BUT… This is where this blog comes in and the comments you
guys leave (in various forms). I received
an email from Mrs. P who currently resides in Austin and keeps up to date via
my babbling here. It was a great motivator and reminder that even though I wake
up in the dark and spin on my own, this journey isn't one I'm taking by myself.
Thank You to each and every one of you that is helping me.
With that in mind (and Indiana Jones: Raiders of the Lost
Ark on the TV) I kept slugging it out. 1
more KM. Get to 5. 2 more. Get to 10. At 10KM I had to stop, the
body didn't have much left to give. Hopped off Spritz after 19m38s and
10.04KM. I had an average heart rate of
138BPM, maxing at 157BPM. Hamstring and quad stretches next as per instruction
and then something new. I wasn't feeling it, but 10 hand release push-ups, 10
sit-ups and 10 squats (focusing on opening and closing my hips and getting to
parallel).
Beez
Side Note* There is a 30 day challenge currently running at
@CrossFitCanuck, and while I'm not in it (Boys week, Superbowl…) Tavia was nice
enough to take my measurements. I plan on working hard so that when the results
are tallied, there will be at least a 10lb improvement.