That's right Ladies, no Gerard Butler and his ridiculous abdominals
in this post, but there is a mighty 300 (we'll get to that in a second). First
off I told @Keilshammer that I would come clean and I am a man of my word. Today was a terrible day with regard to my
food choices. The key to a successful
meal plan is preparation. Coming off the boys week and all the visiting we did
on Sunday, I haven't shopped enough (I did get some basics, but I burned
through those already) and as a result I didn't have a prepared lunch. We hit up California Sandwiches and while
that's not awful, I should have ordered a mini (I always forget) and I tried
their onion rings (just couldn't stop myself). Don't worry, I felt awful for
the rest of the day and won't be doing that again.
Last night I visited Drs. Spin and Demetry and they spent
the better part of 30 minutes working on the various issues that I have been
saving up. After being forcefully
reminded that I need to come in more often, they worked on ankles, knee, back,
neck and thumb. Their combined efforts got me moving and grooving again (even
up to 60% mobility in my thumb… YAY!!). With all these adjustments I was stoked
to get to @CrossFitCanuck tonight.
Warm-up
50 Mountain Climbers
1 Bear Crawl
40 Mountain Climbers
2 Bear Crawls
10 Squats
30 Mountain Climbers
3 Bear Crawls
20 Squats
10 Push-ups
My body wasn't a huge fan about 10 Mountain Climbers
in. My hips (and hip flexors) are still
about as flexible as the Eiffel Tower. Even with the stretching and rolling I've
been doing it hasn't gotten better.
Looks like I may have to break down a follow Dr. Spin's suggestion and
try Yoga. In the meantime #530Crew was working on 3 Sets of 10 Deadlifts
(Heaviest Possible). Now it was weird, I
started warming up to a weight that I had thought was my max, concentrating on
form and it was really easy. I got up to 195lbs, but realized I couldn't string
together 10. Worked back down to 155lbs
and completed the sets. We had time left over and Tavia said we could work on 1
Rep Max weights. With the help of @DefconRX and under the supervision of Coach
T, your truly Deadlifted 300lbs!!!!!
WOD
10 – 8 – 6 – 4 – 2 Reps
Thrusters (@75lbs)
Deadlifts (@75lbs)
Rest 2 minutes
10 – 8 – 6 – 4 – 2
Kettelbell Swings (@50lbs)
Wallballs (@20lbs)
Burpees
I finished in 12 minutes 41 seconds and as always the
friggin Burpees were my undoing. I had a decent time on the first round and was
working away at a good clip in every activity except the Burpees. I'm pretty
sure I wouldn't have made it without the encouragement of the #530Crew cheering
me on. After I make the Rope my biotch, Burpees I'm coming for you. The one thing that I did feel really good
about was that my Squat has gotten to almost parallel. That may not sound like
much, but considering that I was about 45 degrees when I started, it's a HUGE
improvement. (note the picture was after the WOD and i was tired…)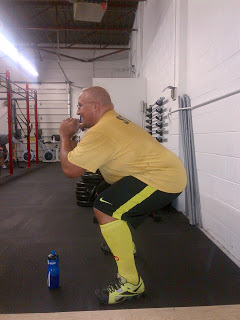 Until tomorrow,
Beez