Superman you say? Yes, that is correct, today's WOD (Wipeout
of the Day) is brought to you by your host (BigBrnz) at the top of Southern
Comfort. It wasn't an escape from Ninja Assassin's, it was the simple act of
skating with my snowboard to reach Waterfall. I somehow managed to step on my
board as I was trying to skate and the next thing I knew, face first, arms
extended and my board in scorpion I could have leaped a tall building in a
single bound… maybe). Dennis almost fell over laughing at this completely
unexpected and somehow oddly spectacular face plant.
I went out yesterday for some early runs, but it was no
go. It was like I had never been on a
snowboard before; my body wanted no part of it. My knee was stiff, my back was
cranky, I couldn't lean or bend, basically it was as ugly as it could be. I
almost ended up in the trees and when I finished the run I knew I needed to
call it for the day (for my safety and everyone else's).
Today would be my last shot at boarding for 2013 (probably)
and I didn't want it to end like yesterday.
I walked with Dennis to the village at Silver Bullet was down (WTF??). Den to L-Hill lift, but I walked to Southern
Comfort and hooked up with @Keilshammer and Mr. Rick. The first run was sketchy, but as I kept
going it really started to feel good. Dennis hooked up with me and we proceeded
to do the next runs together (he was kind enough to wait for me and managed to
give me a few more pointers). I had 1
good spill where I ended up head first down the hill, but D was happy that I fought
to save the turn and worked the landing.
IT WAS FRIGGIN FREEZING UP THERE THOUGH!!!
Finished up my last 2 runs with no falls (a couple close
calls) and I felt really good linking turns.
I still have lots of work to do going heel side to toe side, but that
will have to wait. We hit the lodge for
coffee and something to eat and I knew that was done. My body doesn't like the breaks and I didn't
want to take the chance that in a tired state, I would damage myself.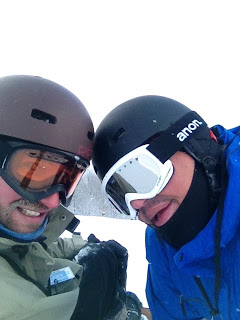 Thanks to my riding partners for a great time on the hill
and let's get the drinking portion of our program going.
Beez