WooHoo!!! In the lead up to Thrill on the Hill this year, I don't
find that I have the excitement that I previously had when going
snowboarding. In fact, I feel very MEH
about it. My body is still very unhappy about life in general, my knee is stiff
although my back is much better. CrossFit has now become a very central part of
my life and anything that has the potential to derail that (i.e. Football) has
to be pushed aside. That feeling lingered until I got on the lift.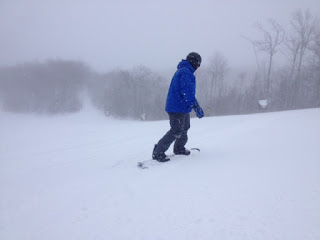 It's funny how perspective changes as you're on the lift
getting ready to barrel a hill with a board strapped to your feet. I hit the top of the lift (and didn't bail
getting off the lift) and it was awesome.
Thanks to cold temperatures, Bill 115 and the Great Pumpkin, there was
NO ONE at Blue. The runs were deserted,
the hill was empty and BigBrnz was at one with the Waterfall. The snow was
really slow, but once I figured that out, I was rolling.
@Keilshammer and Divit joined me for the first few runs and
then I had a couple just on my own. I am
not a hardcore rider, but I boarded for an hour and some change before my knees
decided that I was finished. I was cold,
a little bit wet and tired. I felt really good for the most part, but with the
snow guns going and the fog it was really tough to see. That may not sound like a big deal, but when
you are still unsure (sometimes) you really want to see where you are going.
After lunch and an extended hot tub, boys weekend is in full
effect!