There's a Yoda moment for you. The point where you begin to understand the
difference between when you don't feel like working out and when your body says
you shouldn't work out. After going out
on Tuesday and working out really hard and walking from St. Clair to Sheppard,
yesterday my body was aching. Not in a, "I
feel like I've done something" kind of feeling, but a "You have to not do
anything or you will cause lasting damage" kind. Really, not an awesome feeling.
That was yesterday.
Today, after loading up on the protein shake last night (and drinking a
tonne of water), I woke up with a bit of an ache, but the knowledge that it was
the "I've done something' feeling. So as much as I didn't want to, I peeled
myself out of my warm, soft and comfortable bed and headed down to the condo
gym and my favorite treadmill (I'm being sarcastic, just in case it's not
coming across in my writing this morning).
Friday seems to be a good day to complete 10K Training Session Numero
Ocho (that's eight, think Chad Ocho Cinco… I mean Johnson).
Wow. My body (even though it could) was very displeased with
my choice of the treadmill as my workout as soon as it started (to be honest I'm
pretty sure it would have been displeased with anything). Started with a nice five minute warmup walk
at 4MPH and then hit start on the program.
Now I should say that this week of the program has been less intervals
(in number) and longer times. I got
moving and the first of the small sessions flew by. The longer ones were another story, with two
2m30s sessions (with equal walks) right in the middle. I made it through and still had enough to do
the program cooldown plus another ten minutes.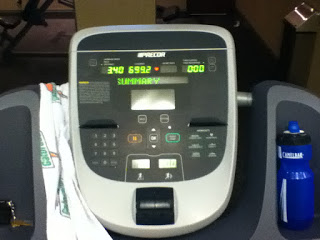 The session was 46m50s (it was actually 45m, but I forgot to
shut off my timer and it now includes my wiping down the treadmill and walking
across the lobby). I burned 615 calories
(more according to the picture, but we go by the Garmin) and had a pace of
9m04s/KM. That's slow because of the
timer lapse and the long warmup and cooldown periods. My foot strikes seem to be holding steady at
82SPM max run pace and an average of 64SPM.
Heading into study lockdown for the next few days as I prepare
to write my CCNA part 2 next Friday.
Have a great weekend.
Beez