Now this may sound a bit insensitive given the events of the
last few days, but wow, someone needs to hold the media responsible for the
fear mongering that has been going on.
Now the loss of life due to hurricane Sandy and the 'Frankenstorm' has
been tragic, but people, the hurricane hit the US Eastern Seaboard. We are in ONTARIO! Now the last time I checked
we are a long way from ocean and anything we would see would just be a bad
storm. Power lines were knocked
down. Yup, it happens all the time. There was minor flooding. Sure, it did rain a
bunch. The media had people buying water for days and stocking up on food. I'm sorry, we are Canadian. We survive -35 degrees Celsius and 3 feet of
snow, since when is wind and rain going to be the end of the World as we know
it?
Ok, rant over, but I had to get that off my chest.
My blogging over the last few days has been non-existent,
just like my exercising. I've been prepping
for my CCNA exam on Friday so working out has been on the back burner. I did
plan on running today but like clockwork, I heard the UPS for my computer start
beeping and knew the power was out. No
big deal, but considering this was the be all and end all, I spent the night
upgrading to Windows 8, watching the 49ers trash the Cardinals and study
Spanning Tree Protocol. Treadmill would
be out. Thanks to the battery in my
alarm clock however I was up at standard time and headed to work for a couple
hours of studying before work officially started. Yay Me!
I got home from work and knew that I had to do something to
get me body moving. I didn't want to
lose the progress from the last few weeks.
Luckily there was an episode of Castle on my PVR and gritting my teeth, I
broke out Spritz for some long overdue spinning. Wow, I forgot how much I enjoy being in the
saddle just pedaling away. You can just
detach your mind and hammer away. It was
quick work for the first 20 minutes, but then the road got a lot tougher. I was determined to get a good sweat on so
today I didn't dial the tension down to stay in Dr. Spin's recommended
zone. I was about 10 points higher than
usual, but it felt good.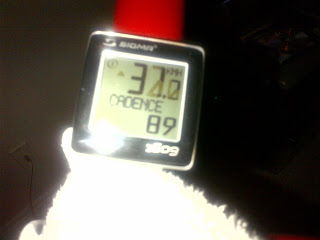 I had to slow down to take the pic…
Have I mentioned how much I'm enjoying the BioSteel sports
drink? Even though it was tough work, I never
felt dehydrated or parched. I seemed to
be able to keep my legs moving at a really good clip. I finished the 45 minute session covering
24.31KM. My average heart rate was
161BPM, maxing out at 170(ish)BPM. Even
my cadence was above the stated goal coming in at a solid 92RPM. Now I haven't decided if I will be running
tomorrow early or doing something else late. Either way something will happen
because I'm headed into a weekend where I get to hang out with @Leslie_Morton
who is back visiting from England and celebrating Dr. Spin's big 5-0.
Oh and a stupid exam…
Beez