After taking a break on Wednesday to rest my legs (which
were not fond of the working out after such a long break), I was back at
GoodLife for some more workout love. Now after Tuesday's all cardio all the
time session, I was going to try and squeeze some upper body exercises in
today. The focus for the foreseeable
future though will be cardio endurance and weight loss to facilitate this
newfound enjoyment I've found in running. Before I get into the session though I
have to add a member to the group for next year's half. I got an email from Jess R asking if she
could run the half with me (it's actually us now) and I'm happy to say YES!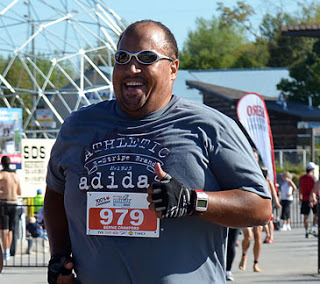 Getting to the gym today seemed to be a little more
difficult than Tuesday and I had to work hard to keep both eyes open and on the
road. It was weird because when the
radio and alarm went off, I was up, crystal clear and ready to rock 'n' roll. I
didn't really have a plan for today, but my calves were a little bit tight so
all I knew was that the treadmill was out.
Elliptical – 35 minutes, 5353 strides, 534.4 calories
Flyes – 3×30 @ 115lbs
Shoulder Press – 3×20 @40lbs
Recumbent Bike – 35 minutes, 9.55 miles, 350 calories
Not an impressive set (weight training wise), but I was
trying to be really focused on cardio. Once @hoodieruns get back from jet
setting (and I'm very jealous by the way), I will hopefully have a chance to
pick her brain about the best way to train in the offseason (thanks to her
involvement with the Fighting Koalas). I see a lot of running in my future and I
really am shooting to pop the top on the Gold Bottle (of champagne) before we
head to Ann Arbor to see Iowa vs. Michigan.
If I haven't mentioned it before, the Gold Bottle will be popped when I break
through the 300lb barrier.
Tomorrow I'm planning on a 10K training session in the
morning and having an impromptu reunion with the 13th floor folks
Friday night. I'm also shooting for some
type of activity on the weekend in between studying, football and activities.
Beez