Drumroll Please…
I am the proud owner of a pair of Zipp 808 Clydesdale Wheels! That's right folks, yours' truly will be
adding some KPH to his cycling for long training rides and WASAGA! It's very
difficult to find upgraded wheels that can take the poundage and the power that
a large can put down. So with some blind
luck, a nice OPP officer in Trenton and Kijiji, I managed to find a set of
wheels that had been used once for a 50K ride.
Very lucky for me because Zipp (and most wheel manufacturer's) have
stopped making products for riders over 225lbs.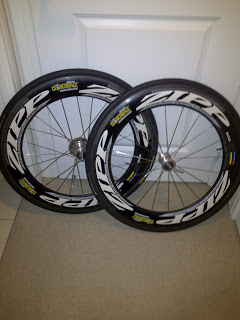 The wheels are ready to rock this weekend with a new Ultegra
cassette and Zipp skewers (geek/biker talk) and I will report back on how they
roll.
I've been writing this blog for a few years now and it was
just this last few weeks that I felt comfortable enough with what I was doing
to post links to Facebook. The feedback
those who have checked out the blog have given me has been amazing. A big thank you today to Ruth-Ann (Doon's
Mom) for the message you sent. Today was
a tough one to get moving, but I was so excited to tell you about the bike
upgrade that I knew I would have to do something.
So this Friday before the long weekend became 10KM Training
Day #3. Now as I have mentioned I was
not designed to run, but over the last few days I might be revising that. I was not designed to run Marathons. These shorter training sessions have not been
terrible and today I was actually enjoying it.
I got up to the highest speeds yet on the treadmill and I didn't feel
like I was going to barf when I was finished. I do have to give a big thumbs
down to Headline Sports for their morning sports coverage. Not a SINGLE Canadian Olympic highlight in 36
minutes. Epic Fail.
In completing the session I got the Determination Badge from
my iPod (I don't know what that means, but it's always nice to get a
badge). 4.05KMs was the total distance
finished in the aforementioned 36 minutes (30 for the running program and a
bonus 6 minutes). I burned 519 calories and carried a 8:53 Min/KM pace which is
slower than session #2, but what can you do.
It felt really good and I averaged 63 SPM (strikes per minute) and maxed
out 85.
Have a good weekend!
Beez