So there was a near catastrophe on the ride home
tonight. Not a bike/car violence, but
bike on bike. Thanks to quick reflexes
by both riders, a T-bone accident was averted. I zigged, he zagged and we both managed
to keep the rubber side down and rolling down the highway. That's the closest I've come to a crash and I'm
fine with that being it. Nothing like
having an exciting ride on this week's only commute.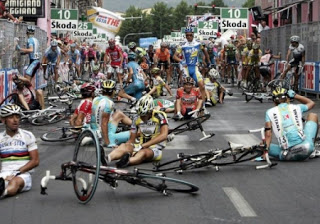 Today's ride didn't seem fast, but I felt really good pumping
the pedals. The weather was gorgeous
both ways. Nice and calm, not too busy
and not hot. My legs seem to be a little
bit burned out the last couple of days but I'm still going to keep at it. Now because of some very interesting
developments today (which you will find out about tomorrow), I will only be
getting one commute in. Now I'm not
going to be skimping out on activity, the plan right now is to run Thursday and
Friday. I'm heading north Friday night
and we should be riding a 100KM over the weekend (YAY!).
I finished today's 31.96KM in 1h28m and burned 2,190
calories. The hills seemed extra steep
today and it felt like my heart rate was elevated (at least on the way there)
with an average of 145BPM and a max of 173BPM.
Again, not crazy numbers, but my times and speeds seem to be pretty
constant for every ride. It's a hard
with the stop lights and the minor portaging on this ride to increase my speeds
and decrease my time, but by the end of riding season they will be better.
So craziness aside, tune in tomorrow for some really cool
news.
Beez