Saturday may be one of the BEST days that I have ever
had. It starts with a dock party
featuring 54.40, going for a ride in the Barrens, getting the Zipps on the
bike, seeing 54.40 at the Kee to Bala and oh yeah, singing my favorite 54.40
song with the band. One giant sentence to try and capture all the crazy amazing
things that happened today.
Today started off with a little ride through the Barrens.
Now we were brining Mark and Noah for their first ride (and Mark's first one
since he had his knee worked on) so it wasn't a hard one to start off
with. We kept a nice easy pace for the
first half of the ride, but Noah and I ended up in a breakaway. We make the
turn at the 10KM mark and I start picking up the pace. I have a good lead on
the rest of the pack but @Keilshammer catches up just short of 4KM left. The race was on now. Hard pedaling and we are in a dogfight. We had a great finish and it was probably one
of our best rides.
We made it back to the Cottage and after a nice soak in the
hot tub to loosen up the muscles; I start to get the red bike ready. That's right, ready for the new Zipp wheels. I
learned a whole lot about my bike, changing brake shoes and pads to get ready
for the new addition. You have to make
the changes to protect the carbon rims from damage. The Red Rocket looks really
slick and she will be going out for her first ride on Monday.
This is where Saturday gets really interesting. @Wardy_, @Keilshammer and I headed over to
News Island for a private concert with 54.40.
It was a small intimate show with about 60 people. Amazing. The best
part is I might get a chance to hear my favorite song (Sunday Girl) which they
have never played in concert. Every time there's a break in the show we scream
for Sunday Girl! Neil responds saying they would have to learn it first. I was crushed. Looks like I will never hear it live. Show
ends. Neil comes back with his iPhone to
the microphone and starts playing Sunday Girl (he downloaded it from
iTunes). I head up to the stage and we
start singing it together. BEST DAY
EVER.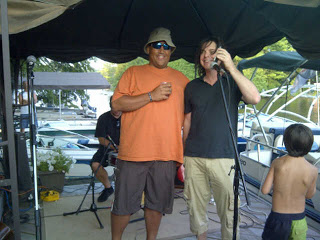 After the private show we head to the Kee for the second
concert of the day. Another awesome show and an amazing day!
Beez