So this is a big weekend for my old roommate and 13th
floor alumni Scott and his new Aussie bride Michelle. We packed up and headed to Blue Mountain for
a planned mountain top wedding on Saturday (and we had the easy portion of
travel, we didn't have to spend 24hrs on a plane). Friday at noon @Nipshank_FF
and I loaded up a piano, camera and enough cables and electrical equipment that
I've changed the name of my car to Dome Productions Mobile Unit 1. Collingwood and Blue Mountain awaited.
Upon arrival (and after only screaming at a few stupid
drivers) we arrived on top of Blue and began our setup. That lasted ten minutes before a passing
cloud brought rain and we had to pack everything and head to the alternate
indoor location. Setup again and while the rehearsal went on I checked us into
the Weider Lodge (Thanks Wendy!). We had a great two bedroom, two bathroom
suite with kitchen and balcony.
Rehearsal dinner (Thank You Scott and Michelle) and then off to the
Irish Pub for some pre wedding festivities. Back to the suite for Vodka and
Mio(s) and Jack and Cokes. Next thing I knew
it was 3am and we were all crashing (and very happy).
For some reason I came to at 730a. No idea why and trust me I
didn't plan it that way. As I lay there
feeling a little guilty for the beef brisket sandwich I had for dinner and the
2am pizza I realized that today would be my only chance to workout. There would be no way coming off a wedding
reception. I climbed out of bed, got changed and headed to the gym. 10K Training Session #5 was on deck and my
body was very unhappy about that decision.
It seems all I need to do to run is get absolutely hammered
the night before. I don't know if it was
me or the treadmill (which seemed unusually fast), but my pace was well above
normal even though I was using my standard speeds. I completed a 38m21s session
that covered 4.61KM and had an average pace of 8m20s per KM. Crazy fast for me. I burned 561 calories and had a max striking
cadence of 83 (which is above my normal too).
No heart rate data, but I was sweating like crazy (and the booze was
oozing from my pores let me tell you) and I feel I put in an honest day's work.
What followed was a lovely ceremony (big thanks' to Mother
Nature for not raining on the parade) and an awesome day with friends. Once the party got rolling there was some
serious dancing going on (so I don't feel bad about any calories
ingested). In fact, my fellow 13th
floor alumni got on the dance floor for Spirit of the West's "Home for the Rest". It was the first time we had all been
together on a dance floor in FOURTEEN years.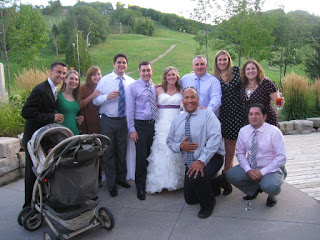 Congrats to Scott and Michelle!
Beez
PS – How I have felt all day is the reason I don't go out
and cut a rug too often anymore. My legs
are tired and achy (actually all of me is tired, but that might have to do with
back-2-back 3a nights)