Lots to talk about today, but I will be honest, this post
almost did not happen. For the last few
days I have been struggling with heavy legs.
Pretty much since I discovered that I do indeed have IT Bands and that they
were tight, I have been having issues.
My legs just haven't been bouncing back from workouts or rides. This is a little (a lot actually)
disconcerting since it is starting to have a negative effect on my preparations
for Wasaga (can you tell that this is becoming my all-consuming reason for
existence?). I skipped the commute ride today because on top of the issues
above, I have been having troubling getting quality hours of recovery. Awesome.
… Little bit about today.
Brucie celebrated his 50th birthday today and as a team we
went out to Joey's for lunch. If you haven't
been, the food is great, the patio is great and the atmosphere is outstanding.
I had the right to select a healthy lunch, but unfortunately I didn't have the
ability (Ron White joke from the Blue Collar comedy tour). Making this decision I balanced it with the
penance of a spinning session when I got home.
As 8pm rolled around I was close. Close to getting on Spritz for the first time
in forever and just as close to bagging of the session, putting on Ghostbusters
and veg'ing for the rest of the evening. I threw a lifeline out on Twitter desperately
searching for some motivation. Enter
@cjwagstaff and his encouragement.
Coming through in the clutch, social media and the people that care got
me off my ass and onto the bike. It was
painful and nothing like being on the road, but as @hoodieruns puts it, "ass in
seat" is what counts. Bike shorts and
all I was in the saddle.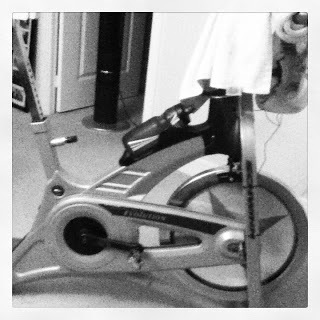 I didn't have a lot in me tonight and even though I started
to feel better once I got ten minutes in, I was still not having a great
ride. That being said, 37m15s to knock
of 20KM on the spinner is not the worst time I've ever had and the 933 calories
(according to Dailymile) worked off a small portion of the Fettuccine Alfredo I
subjected myself too. Don't worry I am
not feeling really good about that choice and will make it up this
weekend. I averaged 157BPM and maxed out
at 167BPM. I tried to keep the tension
as high as possible, but there was a solid ten in there where it was all about
the pedals moving.
Before I close for the night (because it is 30 minutes past
my bedtime) I want to share a link with you.
If you are into cycling, it is really worth the read. If not, well you can skip to the end
(although you find something useful). It
turns out that having giant pistons (legs) is not the only thing you need if
you want to be efficient on the bike. Waste is a thief and it makes every ride
just that much harder, so do yourself a favour and click through.
Goodnight,
Beez