Sunday morning and nothing was stirring, not even the Whoodle. Everyone was taking it slow due to the very
challenging ride on Saturday and a copious amount of food. @hoodieruns, @Ed_Markwards, @Keilshammer and I
dined on Prosciutto wrapped Asparagus, toasted bread with olive oil, tomato
sauce and brie and of course Boursin. We followed that up with steak, potatoes,
salad and steamed asparagus (yes, back-to-back). It was actually shocking that we could
actually consume anything else after we had finished mowing all of that.
Sunday morning we started off with a proper breakfast… yes
that meant bacon. We followed that up with some lazing around, some puttering
and of course some swimming. It didn't look like we were going to get up to
anything physical and then we got the call from out of the blue from Mr. Miller
to attend his cottage compound and partake in some beach volleyball.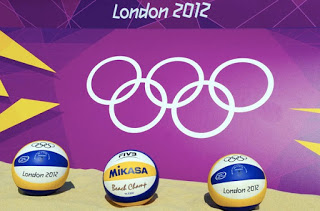 Um… OK!
When we rolled up to
volleyball paradise it was hot. Not
pleasantly warm, but scorching hot. The
only way to deal with that is slather on the sunscreen, grab a drink and get
playing. And that's when I set foot on the court. WOWZA!!!! I have no idea how
professional beach volleyball players handle the BLAZING sand. It was crazy.
Yes it was my first time playing, but it didn't take long to figure out the
Muskoka secret. Dig your feet down to
the cool stuff. This is when it got
serious.
GINGERMAN vs. BALLED-U
3-on-3 that featured some blistering serves, some crazy digs
and bragging rights that went to the other team. Congrats guys (thumbs down). A little bit of diving later and I learned
something else about beach volleyball, the sand is NOT soft. I tried to play
reserved, but even so there was a moment when I was pushing to get to a ball
when I felt some discomfort in my ankle.
This 'stupid' injury actually ended up keeping me from doing anything
Monday and Tuesday, but I'm hoping to ride Wednesday to get back in the swing
of things.
We'll find out tomorrow,
Beez