So as I lay awake last night (after a lovely visit from
Laura and Phil), I realized that I still owed you guys a posting. My apologies, but Thursday was a very jam
packed day and by the time I recovered it was midday on Saturday (and no it was
not due to alcohol, just late evenings).
The problem with this week's plan was a hitch thrown by some old PC
hardware. I was bringing some machines
back to the office to prep them for recycling when I threw my back out (yes, I was
trying to carry too much) and that ended my hopes of riding Tuesday and Wednesday. Based on the stupidly hot and humid weather,
this turned out to be a blessing in disguise (the early commute would have been
fine, but the evening one would have been bad).
Thursday rolled in and I knew that I had to squeeze at least
one ride in. The drama was that I had to
be downtown at 7:30p for dinner reservations at Luma (Bell Lightbox) to meet
@c_snapper and some friends from Ryerson. More on that in a minute. So tire
check, lunch already at work and out the door at 6:45a to hit the streets. It was a great morning (and to be honest a
little cool to be honest) and the roads were empty. I wasn't feeling really great, my legs were a
little heavy, but it is something that has to be done. I'm actually enjoying the daily rides, it
takes 30 minutes longer than if I was driving and I don't have anywhere near
the stress. I'm also starting to think
about pushing the commute into September, but we'll have to see.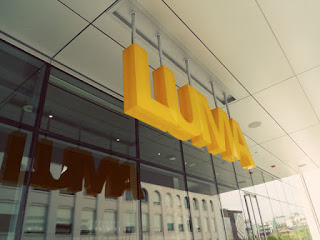 The ride home was a different story, holy people out. There were lots and I'm going to be honest,
they were dumb. Have a look people. I found a new shortcut on the way back,
through a park with a wicked downhill. It
ends up cutting almost 600 meters from the ride and saves a couple of
substantial uphills. By the time I rolled
in at Casa de Chocolate, I finished in 1h26m and had an average speed of 22km/h
(which is up from my normal day to day, but I think it's because of the
shorty). I burned 2,069 calories and had an average heart rate of 153BPM,
maxing out at 176BPM. Not bad numbers
(the 22km/h includes stopping at traffic lights and stop signs and the walking
of the bike up that one hill so it's lower than my normal 25-26km/h average).
The next couple of weeks should be interesting as there are
almost 400kms of training rides scheduled to prep for the race in
September. I'm also trying to get the
running program going, but that has been a little bit of a challenge. My legs have been up and down the last couple
of days (including today when I gave up on going out to do the Monster) so
getting them moving again will be a priority.
Now back to Luma. We
visited for Summerlicious menu and let me tell you, what a great experience.
Our server was hysterical and the food was really, really good. We settled in to catch up (it's been a long
time since we've been out) and the dining experience was top notch. I went with the romaine salad, steak and the
chocolate-bread, butter-pudding. Let's
discuss that dessert. No, words can't
describe it adequately. Let me just say, go to Luma, have Summerlicious and see
if they will just serve you three of the desserts. Stunning.
Congrats to Bradley Wiggins for his victory in the Tour de
France. It has been some dramatic riding and lots of drama on the roads. Amazing.
Beez